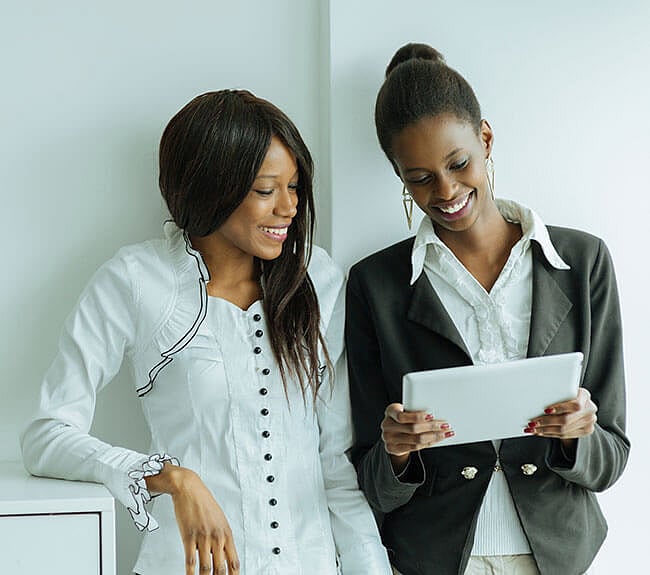 Posted on Thursday, July 14, 2016
The importance of having good relationships with colleagues
If you're a full-time employee, then it's possible that you see your colleagues more than you see your family and friends. Many women spend long hours at the office and the support structures they have in place at work are important, as these help them reach their professional potential.

But when a relationship turns sour with someone at the office, it can impact on all other areas of your life, especially if you work closely with that person. Humans are social by nature and when a relationship is not OK, it can leave you feeling simply rotten, causing you to miss out on that much-needed relaxation in the evening because you can't take your mind off the conflict of the day. And when you don't get the rest you deserve after a hard day's work, you're less likely to achieve all that you're capable of the next day. Why have good relationships with colleagues?

Whether you're a social butterfly who sees work as a great place to make friends or you prefer to keep to yourself at the office, getting on well with your co-workers is important, both for your emotional wellbeing and for the quality of your work. When you're stressed from conflict at the office, it can cause sleep deprivation, which can lead to cognitive impairment.

What this means is that not only is this stress harming your body, but it's affecting your work, too. It will also impact on some things that you probably wouldn't have thought of, such as your commute to work. If you're not concentrating on the road because you're tired, you might be more likely to give your insurance company a call because you had a bumper bashing.

But it doesn't end there; stress can affect you in multiple other ways, such as causing frequent headaches, poor eating habits, fatigue, irritability, and more. All of these things compound and negatively impact your life, preventing you from being and doing your best. But when you look at this on the flip side and see how beneficial good relationships at work are, the effects are amazing. Research-based company, Gallup, says that when a person has a best friend at the office, they're seven times more likely to be engaged in their work.

While not many of us are lucky enough to work with our best friends, having good working relationships will certainly improve our professional performance. How do you maintain good work relationships? At some point in your career, you will likely work with someone whom you don't get along with, and this is simply a part of life. The best way to handle it is to maintain a professional and courteous relationship. If you're finding it difficult to find common ground and keep communication professional, here are some ways that you can set the boundaries between the two of you:


This goes for work-related promises, like deadlines, and personal ones, like agreeing to attend a social gathering after work. If you're swamped at work and aren't sure if you'll get the work done in time, be upfront about it.

It might be frustrating for the other person to hear, but they'll nevertheless appreciate your candour. Likewise, even if you're exhausted after work, going to an event you said you'd attend will promote confidence in you from your colleagues.
It's OK to compromise sometimes.
In every good relationship, there are compromises from both people. A compromise is a signal to another person that you're willing to listen to them and that you care about their opinions. When you compromise, you can often inspire the other person to do the same, and in this way, develop a healthy give-and-take relationship.
Spend time outside of work together.
If you work with someone whom you don't get along with, it can be daunting and unappealing to spend time with them outside of work, but often this can be the best thing for your relationship. It doesn't mean that the two of you need to hang out alone, but if you're in a social setting with other people, you might see another side to one another – a more relaxed and open side. Once you've seen that person outside of the pressure of work, you'll gain greater insight into their character and feel more comfortable and confident when communicating at work.
Recognition is a fundamental human desire, so when you see your colleagues have done excellent work, let them know
A careless word can devastate a relationship, especially at work. While confrontation is often difficult to face, it is sometimes the best course of action. It is far better to try to sort out a problem with someone privately and in person than to talk to others about it.
Standing up for yourself is important for so many reasons. You are worthy of respect, and when you stand up for yourself and your values, you're not only letting other people know that you deserve their respect, but you're affirming your own worth to yourself, too
Conflicted, professional relationships can leave you feeling drained at work and at home, but they are sometimes unavoidable. But by being yourself and making the best of a tense situation, you'll be creating a comfortable and happy working environment for yourself, and likely for those around you, too.

1st for Women gives you the opportunity to focus on your work and relationships as we take care of your insurance needs with great benefits such as Travel, Medical, and Home and Lifestyle. We offer these value-added benefits because we want to encourage you to be the best version of yourself you can be every day – we know you have it in you!