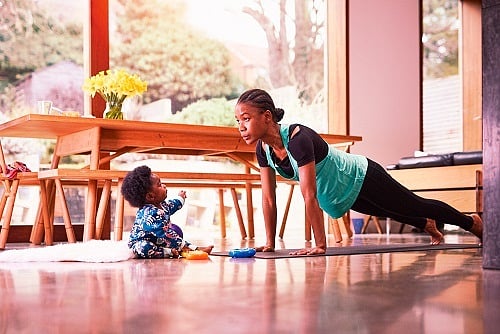 Posted on Monday, October 21, 2019
6 workout routines to rock all year round
As women we juggle it all — dedicating some time to unwind and relax can be tricky. So, whether you've set specific fitness goals or just want to get your blood pumping and stay in shape, we've got you covered with a wide variety of exercise routines. From stretch and tone to full-on sprint, there are hundreds of ways to exercise and make you feel good.

1. Stretch. Tone. Balance.

If you like your space and don't enjoy the confines of a gym — why not try yard yoga? It's one of the most soothing and relaxing exercises you can enjoy alone or with a group of friends and you can do it in the comfort of your home. According to Yoga Journal each time you practice yoga, you take your joints through their full range of motion. It also helps with blood circulation as well as getting oxygen in your cells.

2. Pedal up from tar to trail


Unlike some exercise routines, cycling doesn't require high levels of fitness and it's a fun way to get fit — especially if you're an adventurous outdoor person. It's also a very sociable exercise – perfect for meeting new people. One of the most popular cycling groups from Cape Town is called Bicycle South. It accommodates children of different ages and provides a variety of cycling routines for everyone to enjoy.
3. Hit that road

Running is an easy way to stay fit. However, completing a 15-minute jog can be challenging if you're new to the routine. If you've been procrastinating — there's no need to put pressure on yourself. Start by taking walks, and slowly work yourself up to run a few kilometres, before you know it, you'll be a pro.

4. Discover your hiking trail

Go on a hiking adventure and take in the fresh air — while appreciating all the beauty offered by nature. It's an inexpensive activity you can do on your own or with a group. And because kids are natural explorers — it can be a fun and different learning experience if they have never seen a lake, waterfall or been around a mountainous area.
5. Bust that move

Zumba. Hip-hop. Ballroom. Whatever makes your feet move — there's something for everyone. Dancing is a fun way to burn calories. You don't have to be a professional dancer — and not only are they lots of fun – but you can take a partner for some motivation. There are also different dance exercise videos available online for you to enjoy and help you start your day on a high.

6. Walk your way to fitness


Walking is one of the most underrated exercises. It is by far the easiest exercise to do and requires no specific location. However, like any other exercise, it requires discipline especially if you're doing it to improve your health. Most smartphones now have health apps that track and count the steps you take.
Now that you've got some ideas to get you started, prepare to exercise in style — courtesy of adidas. Kit up from head to toe with stylish workout wear. Join the Adidas 3 Stripes Community and you'll be invited to attend member-only events, you'll enjoy early access to sales and special offers, and you'll even receive a special gift on your birthday. Be the creator you were born to be. Click here to join.