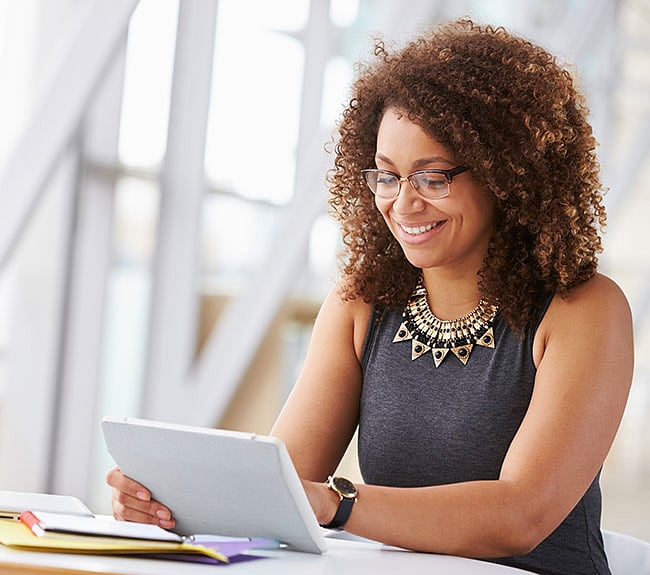 Posted on Tuesday, January 12, 2016
How technology is improving women's lives
The older you become and the more you grow, you may find that the roles you fulfil change over time, too. Even in a single day, you go from being an aspiring athlete on your morning run, to a businesswoman at work in the day, to a dear shoulder to cry on in the afternoon, to a mom helping with homework in the evening, to a chef making dinner at night – your roles are almost endless.
This is why our life insurance is tailor-made for you no matter what roles you take on or what stage of your life you're in. We protect you with our All Women Cancer Policy, our Pure Life cover, which has different levels of protection, as well as Dread Disease, Disablement, and Expo-Sure life insurance. In addition to life cover, technological innovations also make our lives better and easier, from reducing risk of death during pregnancy and childbirth, to making sure we arrive home safe on a night out. That's why we thought we'd give some of these inventions a nod of recognition for helping us be at our best. Here are some of our favourites:
Apps
Safety for a night out
You probably carry your smart phone with you wherever you go, so it makes sense that these devices could become one of your best lines of defence when it comes to your personal safety. There are a number of apps that offer ways to make sure you'll be safe when you're out and about. Kitestring is an excellent one that you can schedule to check in on you when you know you're going to travel through an unsafe area.
You select how often you'd like it to message you, and if you don't respond, it will send a custom message that you create to your emergency contacts and let them know that you may not be OK. What's great about the app is that it doesn't require you to do anything, such as enter a pin code or shake the device, to let your loved ones know you might be in trouble.
Sharing for moms
If you're a mom, you probably feel like you can see your children growing right before your eyes, but modern tech has made it simple and fun for you to embrace your time with them and relive those memorable moments, while still keeping in touch with friends and family. Apps like Lifecake make taking pics and videos of your children enjoyable and interactive.
It lets your family and friends see and comment on what you share, and it's entirely safe because only people you choose to share with will be able to view the memories. It's a brilliant way to shorten the distance between you and your littlies, and grandparents, uncles, aunts, and friends, helping you be the best mom, daughter, niece and friend you can be. Plus, you can look back and see how they've grown because the app keeps track of how old your little ones are as you capture your best moments with them.
Menstruation
Let's face it: menstruation is a nightmare for many women. It can be difficult to concentrate at work when you're in pain or when you're running to the loo every half hour, and the cost of sanitary products like pads and tampons can add up pretty quickly every month. It can also drastically interfere with the lives of women in developed countries, which has serious consequences, such as girls missing too many days of school. This is why menstrual cups are being lauded by women all over the world. These simple, modern devices are mostly made of silicone and a single one can last for years, making them much more affordable and practical for women of all ages in all countries.
Contraception
It's easy to forget just how much better modern-day contraceptives have made our lives, which is exactly why they're so effective – we don't have to remember them all the time. Making sure we take a pill each day is no longer our only option; we have injections, intrauterine devices that can be effective for up to five years, and implants that are effective up to three years and are inserted under local anaesthetic into the upper arm.
As these technologies leave less room for human error (such as forgetting to take one), women can relax more knowing that their contraceptive needs are taken care of. Of course, there are other implications involved in the sexual education of people, such as teaching safe sex to protect from STDs, but these easy-to-use and effective contraceptives are an empowering start for women.
Any technology that not only makes girls and women's lives easier, but that also gives them the power and confidence to be at their best each day, is pretty awesome by our standards. We aim to do this with every product that we offer women. For car, home, business and life insurance quotes that are tailor-made for your unique needs, call us today. Life products are underwritten by 1Life, an authorised financial services provider.