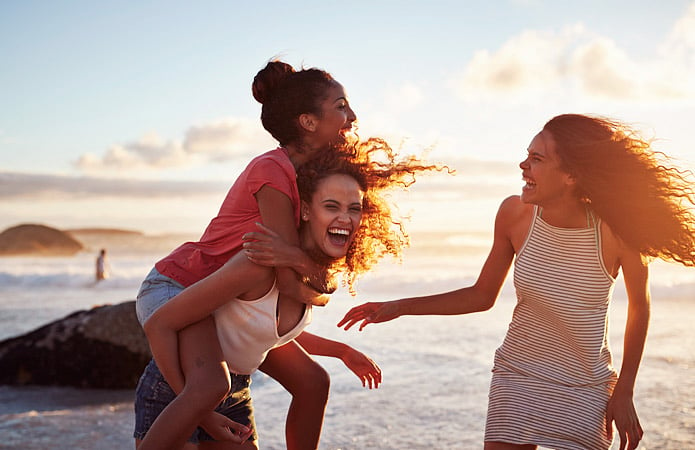 Posted on Tuesday, December 15, 2020
11 places to go and things to do in SA's major cities this festive season
It's been a challenging year and a break is much needed! Whether you'll be taking a Sho't Left or enjoying a staycation, we've got 11 places you can go, and amazing things to do this festive season in Cape Town, Durban, Johannesburg and Port Elizabeth.
11 places to go and things to do in SA's major cities:
Cape Town
1. The Beach
With some of the most spectacular views in the entire world, Cape Town's beaches are in a league of their own. With a variety of beaches to choose from since the Indian Ocean and Atlantic Ocean borders the coastal city, you're spoilt for choice - whether you prefer Camps Bay or Muizenberg.
2. Kalk Bay
You may or may not have heard of Kalk Bay, but do you know who has? Forbes magazine. It was named one of The 12 Coolest Neighbourhoods Around The World by Forbes magazine in July 2018, among international hotspots like Barcelona's Sants, Washington's Navy Yard and Amsterdam's Noord. Enjoy cobbled streets, vintage bookstores, art and antique galleries, ocean and mountain views, quaint cafés and restaurants.
3. Boschendal Wine Farm
Next time you're visiting the Mother City, put a wine farm on your to-do list. Boschendal is appreciated for its untainted beauty, with ancient oaks, and beautiful, untamed gardens. There is plenty to do here from wine tasting to kiddies' entertainment and horse riding.
Durban
4. uShaka Marine World
What's a trip to Durban without spending a day at uShaka Marine World? The park has four sections, the highlight of which is uShaka Sea World. It's the fifth-largest aquarium in the world, designed around five shipwrecks. You can go scuba diving and participate in other fun activities too. The kids will really like this one.
5. Swing at Moses Mabhida
Also known as Big Rush and recognised by the Guinness Book of World Record as the world's biggest swing, it is 106 metres above the stadium's pitch and swings out in a huge 220-metre arc. This is sure to get your adrenaline pumping. Adventure lovers will appreciate this one.
Johannesburg
6. Bungee jumping - Soweto Tower
Located in Orlando, one of Soweto's most iconic neighbourhoods, the jumping towers are a decommissioned coal-fired power station which served Johannesburg for over 50 years. Now remodelled to reflect the richness and beauty of Soweto, this landmark is a must see and experience.
7. Lion and Safari Park
Just 13kms away from Lanseria Airport, The Lion and Safari park is loved by locals and tourists alike. It offers a wealth of exciting activities such as animal interactions, guided game drives and self-drives. You're guaranteed to get super-close to some of Africa's favourite animals whether you go on an informative guided tour or self-drive.
8. Épicure by Chef Coco
Voted as one of the best restaurants to eat at in 2020, by Eat Out magazine. Épicure is inspired by cities in Africa, chef Coco Reinharz is educating palates on the different foods on the continent. It offers a fine dining African experience.
Port Elizabeth
9. Tour of VW AutoPavillion
Car lovers will be in heaven on a pre-booked tour at the Volkswagen Factory in Uitenhage. You'll encounter the oldest Kombi in South Africa, meet Herbie and see a car sliced in half by a laser! Enjoy a tour of the AutoPavillion, which is the only automobile discovery centre on the continent and only the fifth worldwide.
10. Addo National Elephant Park
See the big five plus the southern right whale and great white shark. This wide-spanning reserve also boasts the best elephant viewing in the country. A great activity for the entire family.
11. Ginger
Fine dining done right, with sweeping views of the Indian Ocean. Great service, a visual and culinary feast, this is one of the best restaurants in the city with outside and inside seating options. Plus, their cocktail menu is incredible.
We cannot deny that this year's festive season is going to be different, after all the world as we knew it has changed. But you know what, there is a beauty that lies in change and who knows some new traditions may come from this year of firsts.
From us at 1st for Women, happy holidays.