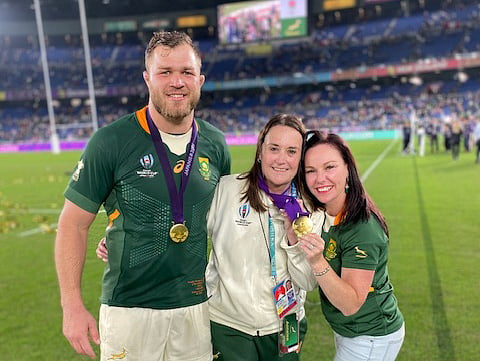 Posted on Friday, October 1, 2021
A 2021st for Women: Annelee Murray
We all know the saying "Behind every great man stands an even greater woman". Can you imagine being the great woman behind an entire team? Not just any team, but the Springboks? That's who Annelee Murray was for 20 years. Annelee was the Public Relations (PR) machine behind the team – working with 7 national coaches, 248 players and 21 Springbok captains – a role that earned her the title of "First Lady of Springbok Rugby". To many of the players she is affectionately known as the "Mother of the Springboks" and as a "lioness who would rear her head to sort out anyone who was unkind to one of her boys". Annelee documents her green and gold journey with the team in her book, THE FIRST LADY OF SPRINGBOK RUGBY. She tells media personality Uveka Rangappa how she fearlessly played in a field many think is reserved for men!
You spent 20 years doing PR for the Springboks and became known as the First lady of Springbok Rugby. It couldn't have been easy surrounded by all that testosterone. Looking back, what was your fearless first and how did you get past it?
Initially, I was slightly intimidated addressing Springbok greats but I just got stuck in and worked harder and smarter and gained the respect of my colleagues and the players. I never felt I had to overcome anything, just be better and awesome at my job.
Back to the beginning – why rugby?
I always loved sport and still do and wanted to work in sport. The rugby opportunity came along and I grabbed it with both hands.
Was it difficult being a woman in the middle of this "scrum"? Were you ever not taken seriously or second-guessed?
I quickly learnt that I had to be better than anyone in my job and I worked harder than I'd ever done to gain the respect.
What do you think you brought to the role that a man couldn't?
I think naturally woman have empathy and that helped me, along with my nurturing nature.
Did it change you – make you tougher or did you stay "you"?
I learnt to be tougher and how to say NO in a nice way. Being the gatekeeper in this high profile male sports environment was hard but I developed a tough "outer layer".
What were the demands and rewards of the job?
The demands were long hours, relentless pressure and expectation of a nation but the rewards were the winning and bringing a nation together.
Who/where do you think you would have been if you hadn't taken this path?
I think I would have been just another proud supporter of the team, as I am now since retirement.
Many women might be intimidated by such a role in what can be described as a "man's world" – they might not even take the job – what do say to those women?
I would say that you need to back yourself in any situation and hope that by sharing my journey I can inspire many people regardless of gender, to achieve.
You've finally documented your green and gold journey in this book – what next for Annelee Murray?
I'm enjoying being at home for longer than a few weeks , watching my vegetable garden grow and spending time with my loved ones . I hope to always be involved in sport in some way or another.