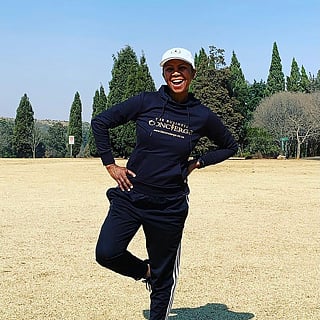 Posted on Monday, September 27, 2021
A 2021st for Women: Deshun Deysel
For many women, breaking the glass ceiling is the ultimate but for Deshun Deysel, it goes even further – it's conquering mountains, literally! She went from being a teacher to becoming one of the country's leading female mountaineers. Deshun has been on 16 major climbing expeditions to five continents, including being part of the first group of South Africans to plant the new democratic flag on top of Mount Everest. Deshun is now busy building her business – Go Peak International. But she has her eye on the Seven Summits and maybe even the Three Poles. She spoke to media personality Uveka Rangappa about Fearlessly conquering it all.
1. As a mountaineer, you must have had to overcome many terror-filled moments. Which was your Fearless first?
I think my first real fearful time was having to navigate the IceFall on Mount Everest. The IceFall is a notoriously volatile section on Everest, where many people have fallen to their deaths or been seriously injured. The deep crevasses mean you are constantly looking down into the hole that could swallow you up or looking up at an ice block that could collapse on top of you! Overcoming that in your mind in order to continue climbing is a real victory in itself.
2. You were a teacher. What led you to mountain climbing?

I'd been teaching for six years when the opportunity to sign up for the First South African Mount Everest Expedition came up. As a little girl, I always followed all the 'Everest/Adventure Specials' by National Geographic and I was obsessed with Tintin and Heidi's adventures! I ended up backpacking through Europe and hiking SA's iconic spots, like the Blade River Canyon back in the early 1990s. It all led to me being part of that historic 1996 Expedition to Everest.
3. You didn't make it all the way to the top of Mount Everest then, but you keep trying. What keeps you going?

I love climbing and I love reaching the top even more! In mountaineering, you learn that you must try a number of times before you can finally claim your spot at the top. It's an important life lesson. Mount Everest has played such a strong role in shaping my identity, so it would be the ultimate reward for a lifelong pursuit. I can't wait to get back there!
4. You've also had to fight stereotypes. Tell us about that.

When I first set foot on these big mountains, there was literally not a single other Black person, anywhere! As a woman, I also found myself having to overcome primitive ideas around my capability, strength and hunger for climbing. I have been bullied, mentally abused and often felt like there was a deliberate attempt to stop me from succeeding. It is a tough thing to experience under normal circumstances, but when you're climbing a big mountain for weeks and weeks, the stakes are much higher.
5. Do you draw on your mountain climbing experiences to deal with challenges in business?

I draw on the lessons I've learnt in climbing daily and try to lead my team to a similar understanding. I also take our customers on 'virtual/simulated journeys' to tackle their own 'Everests.'
6. Has mountaineering made you more resilient or were you always resilient which is why you've chosen to conquer mountains?

I would say that I was already resilient. I was quite ill as a child and also dealt with abuse, so I started climbing with a high level of tenacity. However, the mountains have tested me in greater ways than life sometimes does and I've grown really tough as a result. Mountaineering makes one resourceful and helps tremendously with a sense of risk calculation and being calm when there is danger. Amazingly, it helps in my parenting as well.
7. You're an active promoter of high altitude climbing among women in Africa… how have you seen these experiences change the women you've worked with?

In 2020, I was part of an All Woman team heading to climb Mount Everest. COVID put a stop to that, but it was a signal that women are starting to take up space in the mountains. I'm quite pleased that my small steps a few decades ago have brought mountaineering into focus for women in Africa. Of course, many women have done greater climbs than me in recent years, which brings me a great deal of joy!