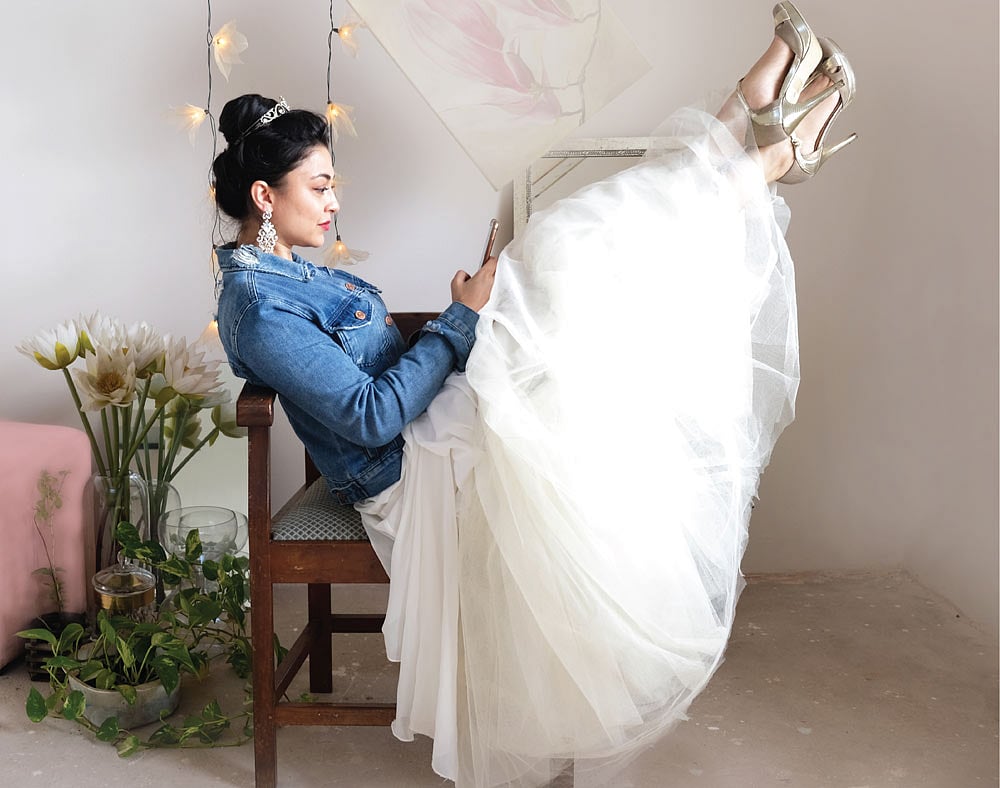 Posted on Wednesday, September 1, 2021
A 2021st for Women: Shubnum Khan
Author Shubnum Khan's story is one of breaking free of the "expectations" of a single Muslim woman in South Africa. Her second book, "How I Accidentally became a Global Stock Photo" is receiving a lot of attention. It takes us through her adventures from teaching children in a remote Himalayan village to becoming a bride on a rooftop in Shanghai – and having her face splashed on billboards across the world for all kinds of adverts – accidentally! It's the story of a gutsy single woman whose journeys were filled with unexpected twists and turns. She spoke to media personality Uveka Rangappa about being fearless!
1. Of all your adventures, which would you say was your "Fearless" first?
I think the first time I tried to do something that was completely out of my realm of comfort was when I went to teach in a remote village in the Himalayas. I was so scared to do it but I knew if I didn't take that first step, I would be stuck and I didn't want to be living a stuck life. Adapting to village life was hard and quite scary. I'm terrified of everything and there were tremors at night, leopard and bear sightings around us, rumours of jinns (supernatural creatures) and even weird creatures that could get into your ears while you slept. I loved the experience but I was scared a lot of the time.
2. Where did you find the "chutzpah" to not fall into a traditional role but go out into the big sometimes bad world ?
I didn't feel like anything in my life would change for most of my twenties. It's only when I forced myself to take that first step on that journey to myself that things began to change. So I think you really have to believe in yourself and hope for things to happen in your future. I was also lucky to have a supportive family that encouraged me to read which really affected how I saw the world from a young age. It certainly helped that my Dad was a lot more open-minded and supportive of my having new experiences. He was instrumental in me learning how to love myself because he loved all of his four daughters completely. And that really helped when I was trying to be brave.
3, In many families there's always the question of "What will people say?" when someone, especially a woman, does things her way. Did that ever bother you?
I used to be a people pleaser and I was always scared of what people would say. It bothered me a lot when people commented on me being unmarried, not having children or my writing. I've realised people will always have something to say regardless. You just have to go on! I tend to be very selective of who I let in now. I know the people whose opinions I care about and those I don't.
4. You've done so much already with adventures in the Himalayas, Turkey, New Mexico, New York, and Shanghai to name a few. What's next for Shubnum Khan?
It's hard to say because of COVID but I'd love to see Japan and parts of Europe soon. I'm also working on a new novel which is set in a mysterious house in Durban.
5. A final word to other women on being Fearless.
I'm scared every single day but I also know I want to have the best possible journey I can because this life is mine and it's so short. And there is so much to see and do and no one should be able to hold me back from being the best I can be.
Auth non-life Ins & FSP.