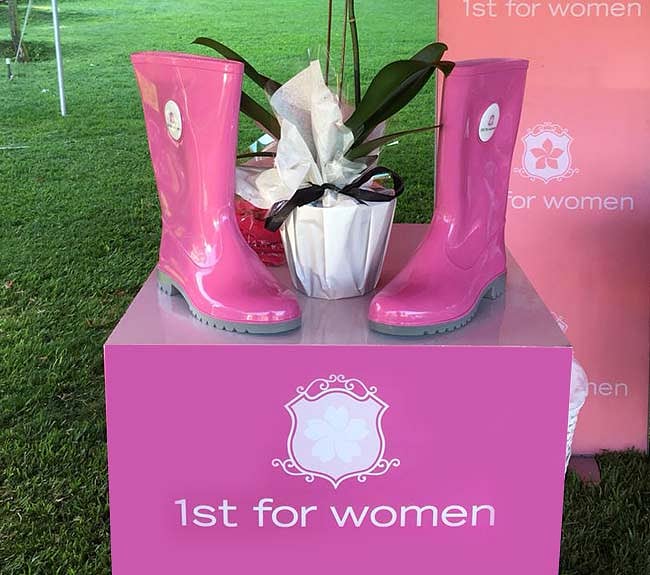 Posted on Wednesday, April 4, 2018
Thank you for helping us give abuse the boot.

The first two Saturdays of March 2018 proved that when people unite, incredible things happen. We hosted our annual 1st for Women Sisters with Blisters walk, in partnership with East Coast Radio and Jacaranda FM, and together, we successfully made a real difference in the fight against woman and child abuse in South Africa.

On Saturday 3 March, 2 000 Durban residents descended upon Chris Saunders Park in Umhlanga to show their support for women at the 5km walk, in partnership with East Coast Radio. On this day, R80 000 was raised and donated to the Centre for Community and Justice Development, a non-profit organisation which provides fundraising, training, research and other support services in KwaZulu-Natal in the fight against woman abuse.

The very next Saturday, about 3 500 men, women and children from Johannesburg united and showed their support at St Stithians College in Sandton. Together with Jacaranda FM, we raised over R270 000, which was donated to Lawyers Against Abuse, as well as Women and Men Against Child Abuse, both of which are making a tangible difference within their communities in the fight against woman abuse.

This year, the theme for the walk was 'together, let's #giveabusetheboot'. When we come together, through our collective efforts we will be able to find solutions to give abuse the boot, for good. Woman abuse is a social tragedy which has reached epidemic proportions, not only locally but globally too, and it urgently needs to be addressed so that women are empowered to go forward together and live their best lives.

The walk is dedicated to uplifting, advancing and empowering women from all walks of life. It's about creating awareness and giving South Africans an opportunity to speak out, be heard and change their destiny positively. At 1st for Women, we hope that through the walk, we were able to inspire others to do just that. We have to do it together, because together, we are stronger.

The annual 1st for Women Sisters with Blister walk forms part of a holistic solution which we implemented at the start of 16 Days' of Activism in 2017. We also launched ForWomen, our online platform which consolidates woman abuse fighting efforts in one place. The initiative was launched to address the three pillars of support against woman abuse, namely prevention, preparation and provision. In addition, the 1st for Women Foundation has raised over R56 million, over the last 12 years, in the fight against women abuse. Read more about this incredible initiative here.