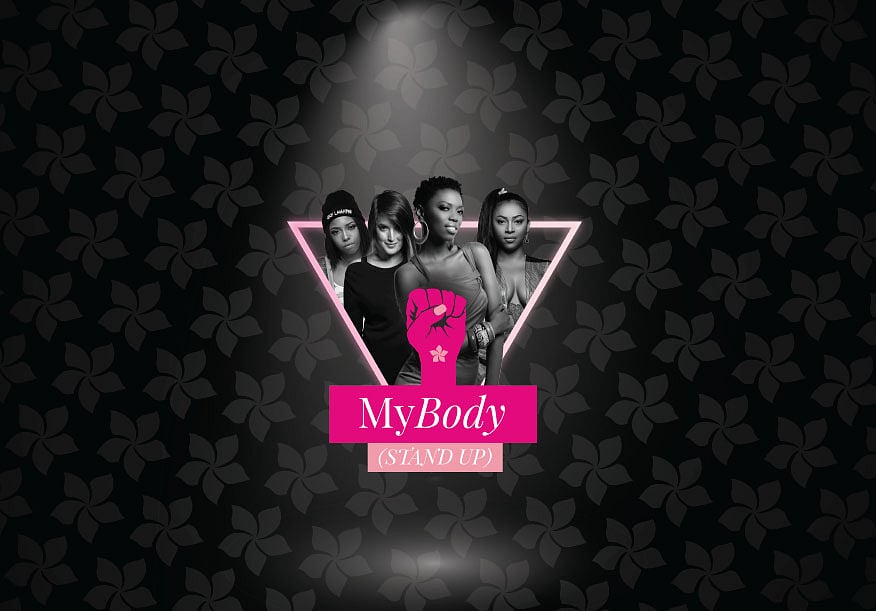 Posted on Friday, November 27, 2020
Meaningful words x music x action = a song that saves women's lives
For the last five days we've remembered and honoured the lives lost to woman abuse. But remembering is not enough. We have to take action, action that makes a sustainable difference and action that inspires and creates hope – and we've turned to the immense power of words and music to do this… starting with just one word: fearless.
For us the word fearless is not the absence of fear, but the courage to push through and prevail despite it, to live the lives we've always wanted. We believe so strongly in the power of this word that we created an exclusive statement T-shirt with designer Palesa Mokubung and our brand ambassador, Zozibini Tunzi. This got us thinking that if one word can hold so much gravity, imagine the power of many impactful words, coupled with something just as powerful – music.
Songs are far more than just words to a tune. Songs captivate us, shape our thoughts and opinions, influence, and guide us. In fact, our very brain chemistry is affected by music.
According to leading neurologist, Oliver Wolf Sacks "The power of music and the plasticity of the brain go together strikingly, especially in young people." It's no wonder then that popular music has a profound impact on the way we view the world and our place in it, through connotations and connections it builds in our minds.
Now, think about the music that blares through the radio on a daily basis, the music that pops up on top hits in our playlists, that repeats on radio five times a day, the music that climbs the charts, the songs that get stuck in our heads. The tunes are often so catchy, that we don't even pay attention to the lyrics themselves.
While music has immeasurable power to do good and make a positive impact, it can also have the opposite effect.
Hip Hop – a genre which is extremely popular and widely consumed – unashamedly objectifies women in song lyrics and the portrayal of a misogynistic lifestyle. It desensitises individuals to sexual harassment, exploitation, abuse, and violence toward women" and "legitimises the mistreatment and degradation of women" (Adams & Fuller, 2006, p. 953).
In a country where a woman is murdered every three hours, where 1 in 4 women are victims of domestic abuse, 1 in 3 women will be raped in her lifetime and where 52 420 sexual offences were reported in just 365 days, we cannot afford to exacerbate the situation further with music that propagates the idea that any form of woman abuse is acceptable.
So, we asked: What can we do to change the tune and help bring an end to woman abuse?
Our answer? Considering that music has the capacity to do so much good, we want to harness that good to bring about much-needed change to the attitudes, behaviours and beliefs that condone woman abuse through the power of song.
Introducing 1st for Women's My Body (Stand Up) song – a song that saves women's lives.
We breathed new life into the original My Body song, written by educational psychologist Peter Alsop, and taught in schools worldwide as part of a sexual abuse prevention programme. We carried through the song's themes such as consent and boundaries, and relaunched it as an inspirational, edutainment anthem with a strong call to action. The song encourages women to rise up, walk hand in hand and take a stand against woman abuse. It reminds men and boys to do the same and put women first – no means no.
To help us bring our vision to life we collaborated with some of SA's best-known artists. It is an honour to work with incredible women who share in our unwavering support of the fight against woman abuse. From Lira, Jules (GoodLuck), to Gigi Lamayne and Mariechan, as well as our brand ambassador, Zozibini Tunzi, each one of them is using their voice to amplify our message and to spread the message of My Body (Stand Up) far and wide. To bring our song to life visually, we also called on dancers who share our passion for the cause. They jumped at the opportunity and participated in our music video as a public service announcement – bringing together real people for a real cause.
But it doesn't end here. We need you to share the message and raise the volume even higher, so that the world is singing along to the song that saves women's lives.
By downloading our song, you are making a tangible difference in the fight against woman abuse – ultimately helping to save lives. That's because proceeds from all downloads go to the 1st for Women Foundation, which has raised R81 million for woman abuse causes to date. The money raised from My Body (Stand Up) will go towards our community programme in Diepsloot which focuses on the prevention of woman abuse and is supported by response initiatives that provide critical support services to victims of abuse.
Now that you know just how important your download is, it's time to take action.
Stand up against woman abuse. Download the song that saves women's lives now: http://ditto.fm/mybodystandup.
Here are a few reasons you need our song on your playlist:
It's a cool and catchy song, with purpose and meaning
It features incredible South African female artists
It's the song that will be heard wherever you go this summer
All proceeds go to the fight against woman abuse
You join a community of women supporting women
Ultimately, there is strength in numbers – the more voices we have, the louder the message and the bigger the difference we can make. In the words of Nelson Mandela: "Music is a great blessing. It has the power to elevate and liberate us. It sets people free to dream. It can unite us to sing with one voice. Such is the value of music."