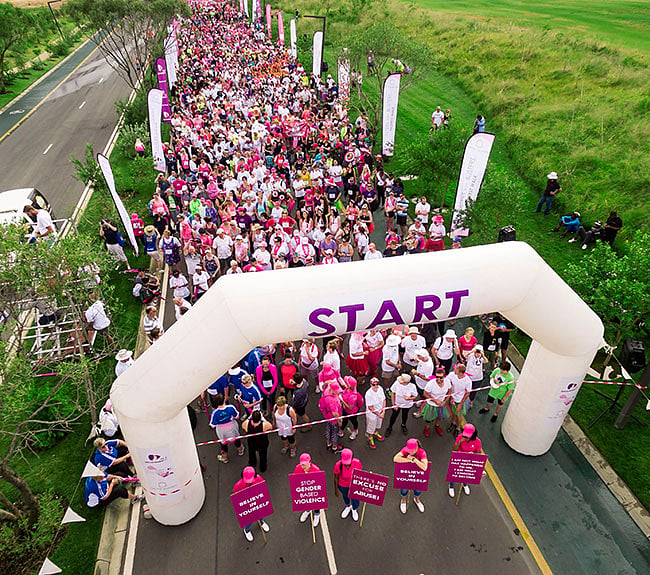 Posted on Thursday, November 26, 2015
Heel-to-heal: we walked for a cause
"The security of the woman is the security of society." – Atifete Jahjaga. We're happy to report that this year we held another successful Sisters with Blisters Protest Walk. This was the 10th anniversary of the event, which saw 5 000 women, men and pooches walk 5km together at the majestic Steyn City to show that they will not tolerate the abuse of women and children.

The protest was about more than just walking 5km; it was a way for people of all walks of life from all parts of the country to come together to show solidarity with survivors of abuse. That's why we'd like to say thank you to all of our walkers, whether in heels or flats, and both two- and four-legged! With your help, we raised R400 000 which was equally divided between two charities: the Department of Social Development's Hlayisani Centre of Hope, and Women and Men Against Child Abuse.

The money donated to the Hlayisani Centre of Hope will go towards providing temporary shelter for abused women and children in KaBokweni, Mpumalanga, where they do not have readily available access to clinics and police stations. The funds for Women and Men Against Child Abuse will help the organisation to continue their work towards fighting for the rights of abused children.

This year, the walk took place just before the 16 Days of Activism for No Violence Against Women and Children campaign, which kicks off on 25 November and finishes on 10 December (which marks Human Rights Day around the globe). This international awareness campaign aims to highlight the importance of putting an end to the abuse of women and children and draws attention to how it affects many people all over the world.

In addition to sponsoring Sisters with Blisters, 1st for Women helps abused women by donating a portion of our clients' monthly premiums to the 1st for Women Foundation, which is involved in a number of activities that aim to put a stop to gender-based violence and help survivors of abuse get justice. The Foundation does this by focusing on three core areas:
Community-based prevention services. Our partners run workshops in various communities to open a dialogue between women, men, NGOs, government, schools, churches and other local stakeholders, where they raise awareness on gender-based violence, provide accurate information on how the law protects women and children, identify the causes of gender-based violence, and sometimes they can mobilise a forum which can lobby for improved service provision regarding gender-based
Strengthening services within the criminal justice system. This extends to the SAPS, where our partners have helped set up victim-friendly rooms within stations, regularly train officers on helping victims with respect and kindness, and more. We strengthen the medical system, where our partners provide 24-hour service at some Thuthuzela Centres so that victims receive attention as soon as possible. We aid victims in the court system, where some of our partners give legal support to victims to make sure that protection orders are secured, criminal cases are pursued, and much more.
Care and support services to survivors. We support various organisations that provide support services such as counselling, shelter accommodation, and more.
Thank you again to all of the attendees at the 1st for Women Sisters with Blisters Protest Walk with Jacaranda FM who are as committed to ending abuse against women and children as we are. You are an inspiration to us!