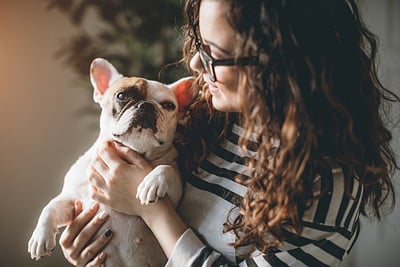 3 min read
Festive Season Pet Safety
---
Lifestyle
November 2, 2023
By First For Women
---
We know how much you love the fur members of your family – and how fearlessly you protect them. With the holiday season around the corner, we thought it was the ideal time to talk pet safety, whether you're planning a trip with your pet or spending the holidays with them at home. Here goes…
Take the fear out of fireworks
Unfortunately, despite the laws against the use of fireworks, many people still use them to celebrate over the festive season. Thankfully there are many remedies that can help ease the stress on both you and your pet. Below are just a few examples:
· Give your pets calming medication, from early in the day, so it has time to work. Consult your vet about the best remedy and dosage for your pet.
· Make sure they get plenty of exercise during the day so they don't have pent up energy at night, which can leave them in a state of frenzy.
· Ensure that all doors and windows are securely closed and locked, and that they don't have access to gates or burglar bars they can try to squeeze through.
· Create a calm environment in the house, close curtains, dim the lights and play soothing music. Keep them in a room where they are comfortable and where you can easily identify and address safety hazards.
· If your pet is happy in a crate, that's even better, as it's a small, familiar and a safe space where they can feel most protected.
· Keep them distracted. Chewing is soothing for dogs so leave them with their favourite chew toy, a peanut butter-filled Kong, or other interactive toys.
Avoid dangerous decorations
A beautifully decorated Christmas tree is lovely to look at, but it can also be a safety hazard for pets. Here are some things to consider before you start hauling out the lights and tinsel:
· Ensure your tree is properly secured. Cats climbing trees and dogs pulling at branches can send the whole thing crashing down on them.
· Christmas ornaments may look like delightful chew toys to your pets. Avoid placing fragile or glass ornaments low down on the tree where they can easily grab hold of them.
· Avoid tinsel and beaded strings low down on the tree. These are dangerous digestive hazards.
· Christmas lights can short out, overheat or even electrocute your pet. So, ensure that you turn off lights when you are not in the room.
· Don't leave presents out overnight. Curious pets can not only tear up packaging and destroy what's inside, but they can also hurt themselves in the process, especially if they swallow small objects.
Beat the fierce summer heat
We're in the height of summer at Christmas time, just as we need sunscreen, shade and plenty of fluids, so do our furry friends. Below are some helpful tips for keeping them cool:
· Ensure that there is always an ample supply of cool, fresh water at various locations in your home or your holiday accommodation.
· Make sure that pets have access to plenty of shady spots in the garden.
· Try keep them in grassy areas or paved areas which are always shaded.
· Have plenty of indoor activities to keep them busy.
· Look out for signs of heatstroke, which include heavy panting and excessive drooling. Immediately contact your vet for the best treatment.
And there you have it, a comprehensive guide to pet safety this festive season. Now all that's left to do is sit back, relax and enjoy a well-deserved break.