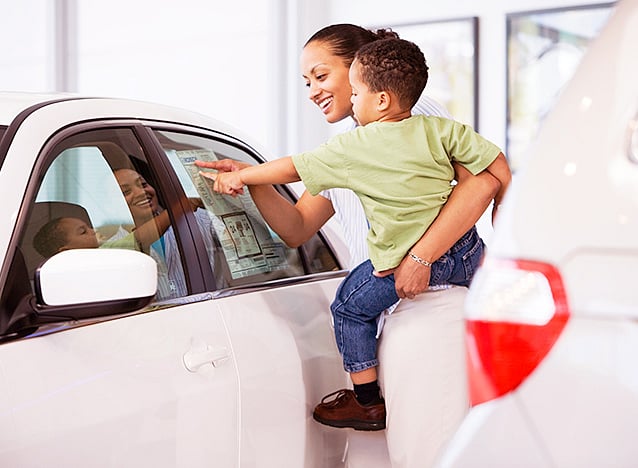 Posted on Friday, October 9, 2020
A guide to insuring your car in tough times
It's natural to want to cut down on expenses in tough times. From scaling back your spending on luxuries, like eating out and getting your nails done, to trimming down when you spend on groceries, it makes sense to be frugal.
Although not knowing what's coming next can trigger fear and tempt us to eliminate expenses that don't keep the lights on or our families' stomachs full. Like car insurance from First for Women. Nevertheless, it's essential that you don't let fear take over and compromise your long-term security - even when uncertainty looms.
While there are many things that are constantly outside of our control, tough times create a heightened sense of the volatility around us. This can be a source of stress, provoking panic and leading to anxiety. But focusing on what you can control, which is to insure a car so that your vehicle and family are protected while you're on the road, will help you meet uncertainty with confidence and composure.
Keep reading our guide about how to insure a car in tough times.
First for Women car insurance tips for keeping your premiums low
1. Shop around and compare car insurance quotes
It might be easy to get a single car insurance quote and sign up immediately, but shopping around for car insurance is the best way to ensure that you get a fair rate. It also puts you in a position where you can compare a car insurance quote and choose a plan that best suits your needs. While insurers offer various benefits to make them stand out in the market, some of these might not necessarily suit your lifestyle. This means that you could end up paying for a service that doesn't provide any real rewards for you.
What can you do about it? First for Women advises that a good rule of thumb when it comes to comparing different insurers and insurance packages is to get three quotes. This will help you to establish whether the rates you're offered are fair and in line with market standards and could even give you some wiggle room for negotiation.
2. Bundle your insurance policies
But shopping around shouldn't just be reserved for when you want to insure a car. If you're looking to save even more on monthly premiums or if your financial circumstances have changed, comparing insurance quotes will help you take control of your cover and your finances. If you have car, home contents, buildings and life cover insurance with different providers, you may be paying too much for different policies. It's a good idea to find out how consolidating these policies could affect your insurance costs. You may even want to look into insurance specifically designed for women to help you take charge in tough times.
3. Get the right kind of car insurance cover
Instead of canceling your car insurance cover altogether, you can take a closer look at the type of cover you have, especially if you need cheap car insurance given your financial circumstances. Being without any auto insurance can have serious financial consequences if you find yourself in a situation where your vehicle is damaged or stolen.
Unfortunately, accidents happen and the possibility of a collision is never predictable. Even if you take every precaution to avoid being involved in an accident while on the road, another driver could crash into you. To exacerbate the problem, about 70% of vehicles on South African roads are uninsured.[1] This means that it's highly likely the other driver won't have insurance to cover any damages, which could leave you financially and legally exposed. What's more, incidents like theft or hijacking can rob you of your vehicle and the freedom it gives you.
Whether you're taking out insurance on a new vehicle or looking to save on your cover, understanding the different types of vehicle insurance available will empower you to decide what best suits your needs and your budget. Let's take a quick look at the different types of First for Women car insurance options:
Comprehensive car insurance is an all-inclusive car insurance cover that covers your vehicle in the event of theft, loss and accidental or fire damage or write off. You will usually have to take comprehensive insurance if you've taken out finance on a new car. This extensive protection includes cover in case of damage caused by adverse weather conditions, like hail or flooding if hail cover is chosen and paid for as part of your policy. It will also payout for any third-party damages if you are responsible for the accident and need to repair the other vehicle. Although this is the ideal type of car insurance, it is the most expensive.
Third-party, fire and theft insurance
As the name suggests, third-party, fire and theft car insurance covers loss or damage arising to another driver's car where you are responsible for an accident, and where your car is damaged due to a fire or is lost due to theft. This type of cover does not include protection for accidental damage to your own vehicle. Although it provides less cover than comprehensive car insurance, the advantage of third-party, fire and theft car insurance - sometimes known as liability insurance - is the lower monthly premium it costs to insure a car.
The most limited form of car insurance, third-party car insurance only covers damage you may cause to another driver's car in the event of an accident. Although third-party insurance is the cheapest car insurance available and protects you from potentially devastating financial implications of a collision, it must be noted that your own vehicle is not covered when you insure a car under this type of cover.
First for Women Essentials Cover
This type of car insurance cover is a non-comprehensive cover, like third-party, fire and theft, and third-party only, which means there are some limits to your vehicle cover. There are three types to choose from:
First for Women Essential 1
-Up to R1 Million third-party cover
-Your vehicle is covered if it is stolen
First for Women Essential 2
-Up to R1 million third-party cover
-Your vehicle is covered if it is written off or stolen
-Hail cover
-Accident Assist includes towing from the scene of the accident and storage of the vehicle
First for Women Essential 3
-Up to R1 million third-party cover
-Your vehicle is covered if it is written off or stolen
-Hail cover
-Accident Assist includes towing from the scene of the accident and storage of the vehicle
-Limited accident cover up to R15,000
4. Read the fine print on your car insurance policy
Although aggregation sites and online quotes make a broad comparison of different insurers and insurance packages easy, they don't necessarily provide detailed information about exactly what is offered and expected. Understanding the activation costs, additional fees, excess structure and exclusions, as well as the responsibilities that lie with you, will prevent any unwelcome surprises when it comes time to pay your car insurance premium or submit an auto claim.
5. Learn how to manage your risk profile
Did you know that women usually pay lower car insurance premiums than men? Your car insurance premium is based on your risk profile, which indicates how likely you are to claim. A variety of factors are taken into consideration when drawing up your risk profile, including the value of your vehicle, your age, and your physical address, among others.
While there are a few factors that you can't control, there are others that can be managed to keep your insurance costs down when you insure a car. For instance, fitting your car with a security system and tracking device will reduce the risk of theft, reducing the risk for your insurer and your premium.
6. Balance your premiums and excess
Excess is the fixed amount you have to pay if you make an auto insurance claim. This fee is designed to discourage low-value claims as well as fraudulent claims and is payable regardless of who is responsible for the damage, loss or theft.
There are usually two types of excess: compulsory and voluntary. The first is decided by your insurer, while the second is set by you. If you're a vigilant driver with a good claims history, choosing to pay a higher excess than what is required by your insurer is a great way to reduce your monthly premiums. However, it's important to make sure you'll be able to afford the fee if you are involved in an accident.
Get a car insurance quote from First for Women
Besides looking for the most cost-effective policy and reducing the potential risk of your car being damaged or stolen, these are some of the trusted ways to reduce your car insurance premiums when you insure a car through First for Women. Your car is one of your most treasured possessions and investments. Make sure it's suitably protected by taking out a First for Women car insurance policy that suits your lifestyle and budget. Apply for a car insurance quote online at your convenience.
Sources:
[1] Wheels24: 12 million cars in SA, 70% uninsured - AA
Disclaimer: The information in this article is provided for informational purposes only and should not be construed as financial, legal, or medical advice.
First for Women is a licensed non-life Insurer and FSP
T's & C's online