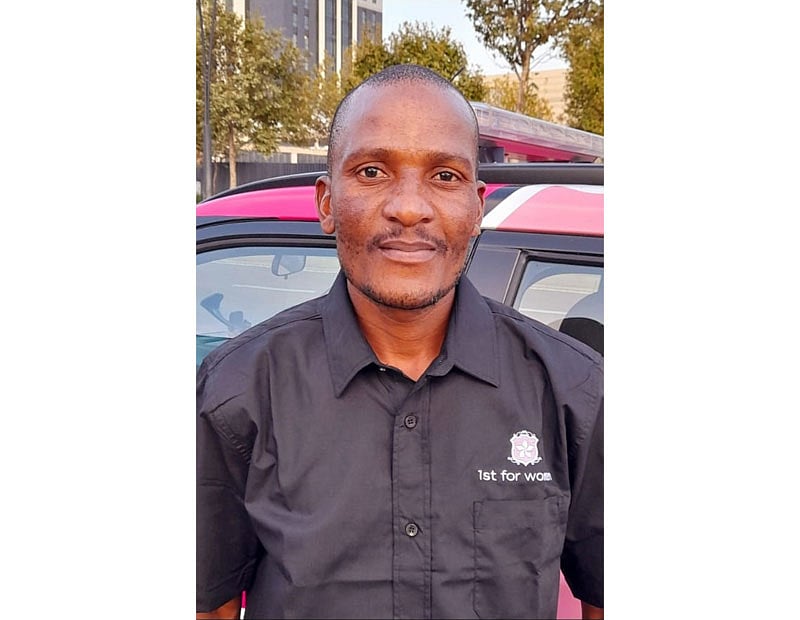 Posted on Tuesday, May 31, 2022
MEET TIMMY MALEKA: A GUARDIAN ANGEL WHO PUTS HIS DEDICATION TO SAFETY AND PROTECTION, FIRST
Over the past five years, 1st for Women's roadside assistance service, Guardian Angels on Call, has responded to over 10 000 breakdown requests and have changed over 7 000 flat tyres - and counting! The team are on call, 24/7, to protect and guard female motorists – something that Timmy Maleka, who has been a Guardian Angel since 2009, takes very seriously.
Timmy wears the 1st for Women shield with pride. He is committed and passionate about providing peace of mind and once escorted and guarded participants who took part in the Yellow for Survivors walk which raised funds to help and empower GBV survivors.
Here's what Timmy had to say about being a fearless angel:
What's the best part about being a Guardian Angel?
I am passionate about helping others, I have always been someone who enjoys taking care of others and making an impact.
What three words would your friends and loved ones use to describe you?
Problem-solver, loyal and reliable.
What motivates you about your role as a Guardian Angel?
As a Guardian Angel, I am fuelled by knowing that I am keeping someone safe from harm. When I arrive on an accident scene, or to assist with a flat battery, the relief is noticeable.
What is your philosophy or motto as a Guardian Angel?
My philosophy is to simply be of great and valuable service and always put the safety and well-being of my customers first.
Given your experience as a Guardian Angel, what key advice would you give to female motorists?
When faced with a car issue, try to park your car where it is safe – a public, well-lit area. This isn't always possible so make sure your phone battery is charged, or carry around a power bank, so you can call for assistance.