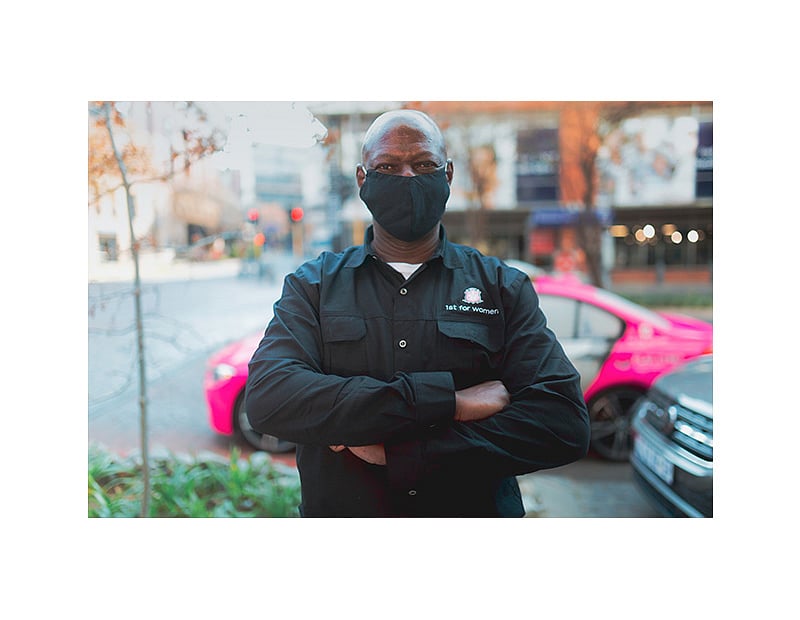 Posted on Tuesday, March 1, 2022
Meet Sello Lishi: A Guardian Angel with a passion for peace of mind
Being involved in a car accident is a traumatic experience and even a slight bumper bashing can leave one badly shaken. Breakdowns, flat batteries and flat tyres can also leave one feeling vulnerable – especially if the car trouble takes place in a dark or dangerous spot.
Enter 1st for Women's Guardian Angels - a breakdown assistance initiative designed to assist and 'guard' woman motorists.
Over the last five years, 1st for Women's Guardian Angels have assisted over 10 000 women and changed over 7000 flat tyres. At a touch of a button, they are dispatched, providing a feeling of safety, peace of mind, convenience and connection.
Sello Lishi doesn't wear a cape, but he displays the 1st for Women shield with pride. As a Guardian Angel, he considers himself to be an ambassador of safety and peace-of-mind – a role he has accomplished with passion and dedication since 2016. Here's what he had to say about being one of the fearless men behind the pink wheels:
1. What's the best part about being a Guardian Angel?
I enjoy helping others and nothing is ever too much trouble. I sleep well at night knowing that I have helped keep women out of harm's way and that I have made a difference.
2. What three words would your friends and loved ones use to describe you?
Honourable, trustworthy and caring.
3. What does being a Guardian Angel mean to you?
Being a Guardian Angel is all about instilling confidence by being there for someone when they need help.
4. What keeps you motivated?
When I get into the pink Toyota Urban Cruiser, I automatically feel motivated. It's like a batmobile, it signals that I am on the way to do good, help others and make a difference. I recently featured in a 1st for Women advert. It's amazing to see how many people recognise me from the campaign. This is extra motivation to be an ambassador for 1st for Women, and an ambassador of safety and peace-of-mind.
5. Given your experience as a Guardian Angel, what key advice would you give to female motorists?
Stay alert, stay vigilant and ensure you have access to the Guardian Angel Call app - we are always here to assist you 24/7.