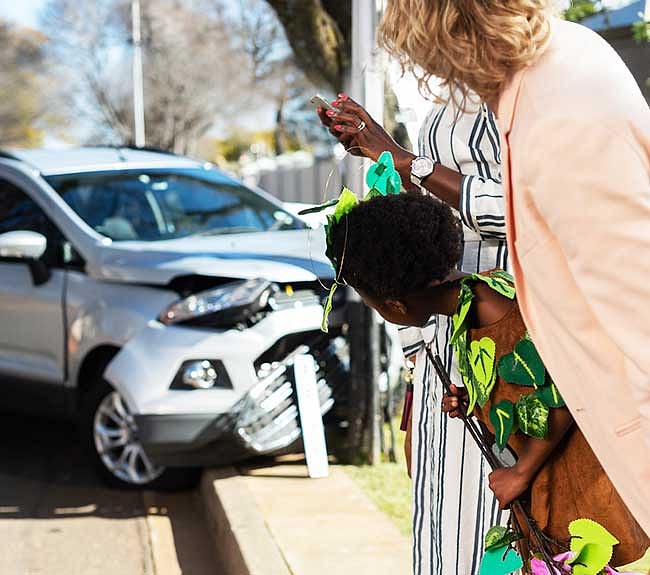 Posted on Thursday, August 16, 2018
A Guardian Angel wherever you go
The South African roads can be treacherous. From enormous potholes, to reckless drivers – it's a scary place for you and your loved ones. A simple trip can turn into a nightmare if you're not prepared. That's why we created Guardian Angel on Call.


Keeping you safe after a serious accident or breakdown


Imagine this. It's the holiday season. There is cheer in the air and you're ready for a long holiday. You plan every detail of your trip, you pack your bags and you finally hit the road. You're happily on your way – radio blaring and snacks a-plenty. You pass a sign that says the next town is 70km away. Everything is cool.

Then, suddenly, a huge pothole appears. You swerve too fast and your vehicle veers off the road! Panic strikes and there's a lot of dust. After a few seconds comes to a big thump and you hit a fence; you can feel the car is in a ditch, and you're in pain.

When a traumatising event like this takes place, you need safety, convenience, and peace of mind. Guardian Angel on Call is designed to keep you safe if you've been in a serious accident or if your car has broken down. All you have to do is download the 1st for Women app, and register your details before you get behind the wheel.


What do I get?
Depending on your policy, you'll get access to the following benefits:
Mobile crash detector

: If you're in a serious accident, the built-in crash detector will automatically dispatch emergency medical assistance to your location.
Stand-by-me:

We will send a Guardian Angel to wait with you if you don't feel safe.
Authorised tow truck:

If your vehicle is not safe to drive after an accident and needs to be towed, you can request a tow truck. An authorised tow truck will be sent to your exact location. You can track the vehicle, and see the driver's details, location and arrival time.
Need a lift?

If your car broke down or you have no serious injuries after an accident and you need a ride, you can request a lift to where you need to go.
Claims initiation:

When the tow-truck collects your vehicle, they'll notify our claims team of your accident, who will call you back.
Roadside assistance: If you need roadside assistance, you can connect with our team who will tow your car, change a flat tyre, jump start a flat battery, bring you fuel and more – all through our app.
The benefit is included in all comprehensive vehicles; third party; third party, fire & theft; motorcycle and off-road policies. For more information on Guardian Angel on Call, click here. Always ready. Just in case.