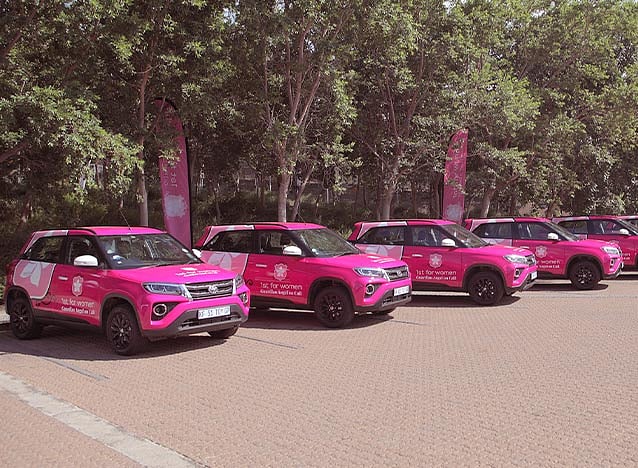 Posted on Tuesday, March 1, 2022
1st for Women's Guardian Angels get a #FearlessFreshStart
1st for Women Insurance recently gave its Guardian Angel fleet a makeover with the addition of 16 new Toyota Urban Cruisers. The distinctive and eye-catching pink vehicles have become synonymous with the 1st for Women brand over the years, and have become a symbol of safety and convenience for female motorists. Like 1st for Women, Toyota is a proudly South African brand, known for safety and reliability.
Launched in 2009, the 1st for Women Guardian Angels breakdown assistance service assists and 'guards' women motorists if they have a mechanical breakdown, a flat battery or flat tyre in a dangerous place.
By calling the 1st for Women roadside assistance number, a Guardian Angel will be dispatched when a female motorist feels unsafe to either assist with the problem or to "guard" the motorist until help arrives.
In the last five years alone, 10 000 women have received assistance from a Guardian Angel. One of them is Devi Govender, who shared her experience with us:
"On an already emotional day, you won't believe what happened, I hit a pothole. My tyre was badly damaged and the car wasn't safe to drive. Thank you, 1st for Women, for picking up my car and Guardian Angel, Sello Lishi, for taking me to work… need to get tonight's show on the road"
Devi made use of our roadside assistance, one of the many benefits of Guardian Angel on Call, available through the 1st for Women App. Here's a look at the many other safety and convenience benefits* we offer:
In-app panic button
In-app crash detection
Emergency medical assistance
Towing service
Roadside assistance
Request a lift
Stand-by me service
Automatic claims notification
View and manage your policy
Submit a claim
And since sharing is caring you can even share the app with up to five household or family members. To find out more about all the benefits of Guardian Angel on Call, just click here.
*Benefits dependent on cover type.