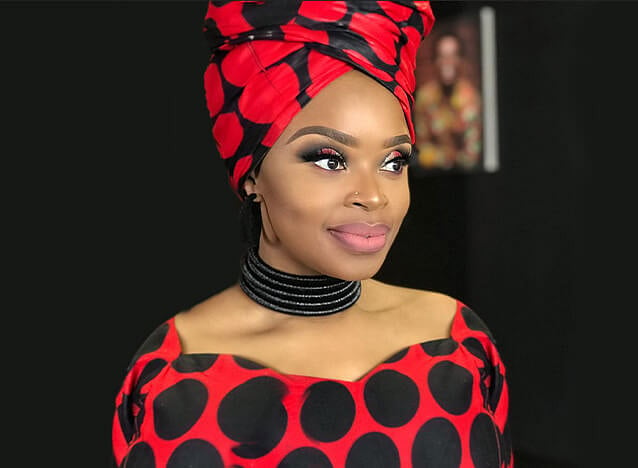 Posted on Thursday, July 22, 2021
On Being Fearless: Uveka Rangappa in conversation with Zoleka Mandela
When you're the granddaughter of Nelson Mandela and come from one of the most revered struggle families in the world, you would imagine a protected life. Zoleka Mandela's life has been anything but that. She has suffered sexual abuse as a child, the loss of her young daughter in a car crash in 2010, the death of her newborn son a year later, the deaths of her grandparents and then the loss of her mother Zindzi to COVID last year. Zoleka has also battled addiction, breast cancer and attempted suicide. Zoleka Mandela told journalist and news anchor, Uveka Rangappa, how she has come out on the other side a Fearless inspiration for millions.
We're honoured to share this moving conversation between Zoleka and news anchor and journalist, Uveka Rangappa, on how she remains fearless through it all.
You have experienced all this pain in your life, how have you kept going?
There are days I find myself drowning in my own tears, when breathing, feeling, or just being feels like an effort. On those days I remind myself to be more gentle with myself, to be patient and more understanding of what I'm feeling and why. I live with depression and anxiety. To keep myself going I have to give myself time to feel what I feel and accept that what I'm going through is quite normal and very human.
Would you say you were Fearless to start and that is what carried you through or did you become Fearless because of it all?
I absolutely cannot say that I was fearless from the start. What carried me through for a very long time were both my late grandmother (Winnie Madikizela-Mandela) and late mother (Zindzi Mandela). I haven't always given my mother the credit she deserves for instilling so much resilience in me, for arming me with self-will and a thick skin. I come from a line of tremendously powerful women, but it is both my grandmother and mother I have to thank for the woman I am today.
At what point would you say you realised you were Fearless?
I guess it was more of a hint than a realisation, back in 2010, shortly after checking out of rehab where I battled alcohol and cocaine addiction. I've always feared facing my own demons. I tried to silence the loudness for years. Having to confront so much about myself sober is fearful but I've learnt it's achievable. This year in August, I celebrate eleven years of sobriety and that to me is fearlessness!
You talk openly about your tragedies and life experiences – many people can't. How are you able to?
I wrote my autobiography, When Hope Whispers in 2013, with a purpose. I wanted to share all aspects of my life, good and bad because I was hoping others could relate and then share their own stories. It was important for me to remind readers that despite what family I come from, tragedy has still penetrated my life. Talking about it has encouraged more women to own their stories and change their narratives. It's never too late to rewrite our life stories.
Many women who have experienced sexual abuse, addiction or attempted suicide are often ashamed or afraid to talk about it. What do you say to them?
I was sexually abused from the age of nine up until my teenage years by family members, family friends and adults who were supposed to care for me. I only disclosed to my family when I was 21 because I blamed myself! Parts of me still carry blame for having kept quiet. The reality is those acts were consciously committed by my abusers and none of it was my fault. I would say to them they are never alone and that it's never their fault. I would encourage them to speak out, to remind them that all our stories are crucial in effecting change and breaking silence.
You've opened up to love again – is that scary for you?
It was unexpected but it undoubtedly feels right. I just want to be happy. I was so incredibly unhappy in my marriage. I stayed for my kids but then realized I was responsible for my own happiness. I can no longer allow any past relationship to prevent me from receiving love. Maybe it will work out, maybe it won't – either way it's ok!
Many people are struggling right now - they've lost one or more loved ones – what do you say to them about going on with life?
After losing two children, my grandparents, my mother and one of my sisters, I've never understood why people constantly feel the need to tell me that time heals. Grief and loss are forever, and time has never healed any of it for me. In my experience, honouring their spirit and memory, the best way I can, has made life more bearable. It's not easy and it takes time, but you can always seek help when it all becomes too difficult.