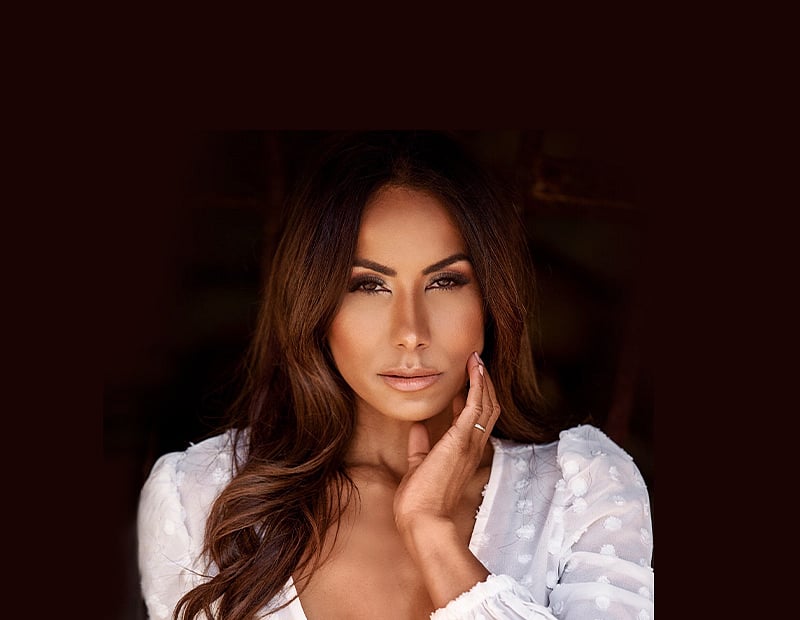 Posted on Friday, April 1, 2022
Not just a beauty queen – Candice Abraham's #FearlessFreshStart
Making a fresh start or reinventing yourself can be exciting and scary at the best of times. When you do it under public scrutiny it's not for the fainthearted, especially if you're a Beauty Queen! Candice Abrahams became the first and only South African to win Mrs World in 2016 – a title that not only meant a lot for women empowerment but changed her life as a coloured woman who always had to work just a little harder to be seen. Suddenly, she was being seen, judged on her appearance and criticised for it too. So, for Candice, lockdown was something of a blessing, when she could step out of the limelight. Candice tells Uveka Rangappa how it led to a journey of self-discovery, a fresh start for her mind and body.
1. You are so many things – Mrs World, wife, mom, businesswoman to name just a few. All of those things come with a Fearless first. What was your most significant Fearless first?
For me it was the moment I decided to put myself first! Pleasing others, putting them first, has always been a major stumbling block to the point of burnout. I'd completely disregard myself, my worth, my value. I needed to belong, to be liked, to just feel accepted. I was afraid of judgment if I said NO! I faced that during lockdown when I did some serious self-assessment and realised I was not being true to myself. I extracted myself from what was happening around me and, in a way, isolation was a blessing. It was scary but necessary!
2. It's difficult being thrust into the spotlight and a lot of it means being judged on your appearance – how do you deal with that?
For years I could never understand why people seemed intimidated by me, why nobody would approach me just to talk. I thought it might be my appearance so I began "dressing down" and sometimes not even wearing makeup – basically dulling my own sparkle! But I soon realised I had to dress up and show up for MYSELF and others! That allows me to be ME and inspire people I meet by being authentic
3. We both worked on a "secret assignment" in February where you told me about your journey to give your mind and body a fresh start. What led to that?
I think when you live through something like a pandemic and realise that the ultimate gift is time and health, you want more of it. I want to be there for my kids and witness all their milestones. With a family history of heart disease and stroke on both sides, it's an eye opener.
4. Where did you even begin?
It was all part of putting myself first and that meant going back to basics after lockdown started to show "around the edges". My journey began in January 2021. It was a little bit of hard work and a lot of common sense. To "reset" I had a meal and exercise plan drawn up by an excellent trainer. It was actually a lot of food and easy DIY workouts. I got healthy and saw amazing physical change. I have maintained that – sharing a lot of my journey along the way.
5. The public and social media can be your best friend and worst enemy. There must have been many opinions about your self-care journey/transformation?
I was so nervous to put myself out there but when I did, I realised how similar we are as women. We have the same struggles and sometimes we just need encouragement. If there were 100 responses, 98 were cheering me on. Many of them signed up with my coach or asked for tips and advice. There were a few negative comments, but we don't waste energy on those.
6. How have you tried to change perceptions of beauty?
This is a constant struggle which I feel has become more overwhelming with social media, body and face editing apps. We must accept that our scars tell our stories. I use my platform to share encouraging information and also share myself "raw" eg. without make-up. This is all deeply connected to mental health and I like to remind people that beauty fades, but how you feel mentally and physically is what's most important.
7. What next for Candice Abrahams?
Whoever is reading this, if you need help spreading your wings, let me be your coach! Let me help you! Coaching has always been something I wanted to do. It seems 2022 has interesting plans for me because the last few weeks of self-discovery, working on the " secret project" allowed me to jump into some deep water and I swam gracefully, so who knows?