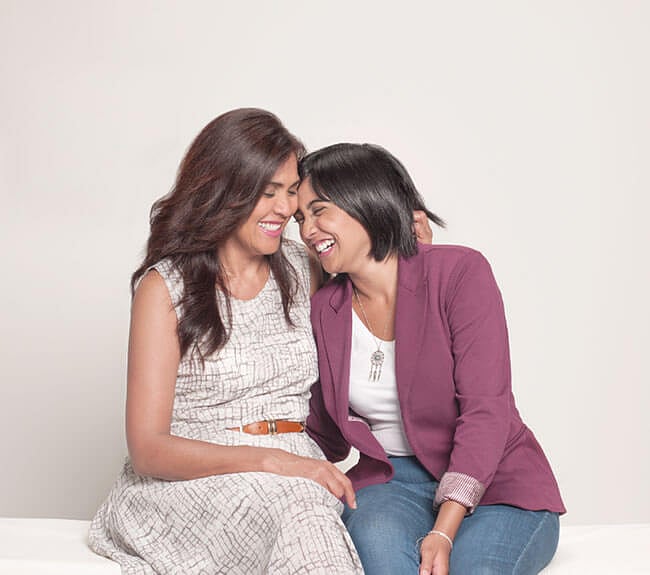 Posted on Wednesday, April 13, 2016
Niamaat & Nur-Jehan - Our Story
At 1st for Women, we are inspired by the women we insure – their lives and the impact they have on the lives of others. The launch of our brand new television commercial explores the stories of four inspirational women and their equally incredible daughters.
Haven't seen it yet? Where have you been!? Grab a tissue or two and take a look for yourself.
We'd like to let you in on the story behind the story.
It's time for you to get to know Niamaat and Nur-Jehan.
Niamaat is most certainly a force to be reckoned with – a strong, powerful career woman and loving mother of three. She manages to do it all and then some, balancing her impressive career with the ups and downs of family life.
And, as the first woman in her family to go to university, she's the embodiment of 'girl power'.
Even whilst juggling three jobs, and yet ANOTHER degree to add to her list of many, she still made time to raise her youngest daughter, Nur-Jehan, who's no doubt following in her mother's footsteps.
Not only did Nur-Jehan graduate top of her class, but she's already well on her way to success. Watch this space. She's heading straight for greatness and we'll be right behind her.
In fact, the only thing more impressive than their combined achievements, is the unbreakable bond they share – one of unconditional love and the kind of selfless pride that keeps both of them moving steadily towards big things:
'Nur-Jehan sets trends; not follows them. And if there's a hurdle, she'll jump it 10x higher. It's funny. She's 10x more confident than I ever was. Or am.' – Niamaat
'My mother's perseverance, determination, and confidence inspires me. Seeing her overcome her struggles shows me that I can be anything I want.' – Nur-Jehan
Both of these women are amazing in their own right, yet continuously pass the credit on to one another for it. 1st for Women would like all women to stop, take a moment, and acknowledge the significance of their contributions as well as the impact and value that they have added throughout their lives.
This power mother-daughter-best-friend duo inspires us to do what we do for the women of South Africa. That's why we put Niamaat, Nur-Jehan, and others just like them, first with tailor-made insurance products and the added benefits they deserve.