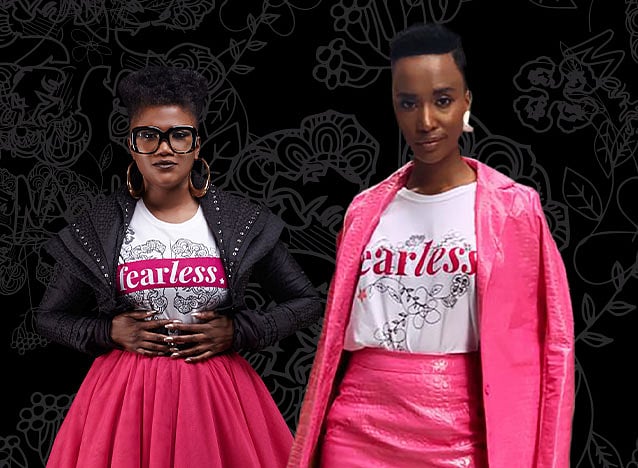 Posted on Monday, September 28, 2020
Introducing the Fearless T-shirt – a statement with a purpose
What would you do if you were fearless?
Have you really ever asked yourself that question? Think about the answer:
Would you say what you've always wanted to say?
Would you go places that you've only dreamed of?
Would you do things you thought you couldn't?
Pretty incredible right? Pretty fearless right? Did you know that you are a pretty incredible, pretty fearless woman? And that you have everything within you to do absolutely anything you want – to say what you want to say and go where you want to go?
So, the next question is why aren't you doing it? Well, sometimes the hardest part is just getting started. It's those niggling fears and doubts in the back of our minds that can get in the way. They can cause us to lose motivation and question whether we really have what it takes.
It's in these moments, it's critical to have a push of encouragement, a message that matters, something that helps us believe that we can do and be what we've always wanted.
And sometimes that encouragement can be as simple as intentional words on a garment
Can you think of something that represents this? We can: the statement T-shirt – a fashion trend which conveys identity, truth and meaning of an attitude or belief towards a cause – intentional words on a garment that become a wearable and powerful piece of art.
This ignited in us the idea of creating our very own statement T-shirt that inspires women to realise their inherent, strength, resolve and power – to be Fearless. To take the first step in squashing those fears and doubts and embracing the inherent confidence within us, to say and do the things we want.
We then had one more question to answer: Who could help us bring this audacious vision to life? The answer? Collaborating with two fearless women who have forged ahead, inspiring and motivating the women of South Africa through relentlessly pursuing their dreams and remaining unapologetically true to who they are: Palesa Mokubung and Zozibini Tunzi.
Palesa is the heart and brains behind Mantsho – the first South African brand to collaborate with fashion powerhouse, H&M. Known for her iconic bold prints and confident styles, centred on celebrating the beauty, diversity and vibrancy of women, Palesa was the obvious choice.
Zozibini smashed through beauty stereotypes with her iconic hairstyle, refusing to adhere to beauty pageantry norms, remaining authentically true to her roots from winning Miss South Africa to being crowned Miss Universe. But far from beauty alone, Zozi has become famous for advocating for female leadership and encouraging women to "take up space in society and cement themselves" – a statement which has resonated with women far and wide. In addition to her focus on garnering female leadership, she is a resounding voice in the fight against gender-based violence and we are incredibly proud to align with her as our Fearless ambassador.
And thus the collaboration of 1st for Women x Mantsho x Zozibini was born and the result is a Fearless statement T-shirt, with meaning, purpose and power in every stitch – in essence, a statement T-shirt like no other.
All the reasons to buy the fearless statement T-shirt:
It is an outward statement to the rest of the world of your intention
It encourages an attitude of fearlessness – it is a tangible reminder that you have everything you need within you to be who you want to be and do what you want to do.
It encourages you to answer the question: What would you do if you were fearless? And motivates you to pursue and implement the answer in your everyday life.
It is never about being reckless but rather about making an informed decision to go after the things that ignite the fire in our bellies and hearts.
In addition to making a statement, it is making a difference in the lives of thousands of South African women because 20% of all proceeds will be donated to the 1st for Women Foundation. To date the Foundation has raised over R81 million to fight women abuse and assisted over 90 000 survivors – and with every purchase, we can help even more.
So, don't wait another second, do this for yourself, do it for the women of South Africa. Get your Fearless T-shirt and become part of the Fearless Collective on our Facebook, Instagram and Twitter pages.
There are two different Fearless T-shirt designs, so you can choose the one that best suits your style.
Click below to view and purchase the T-shirt of your choice:
Fearless Carnation (R350)
Fearless Clover (R450)