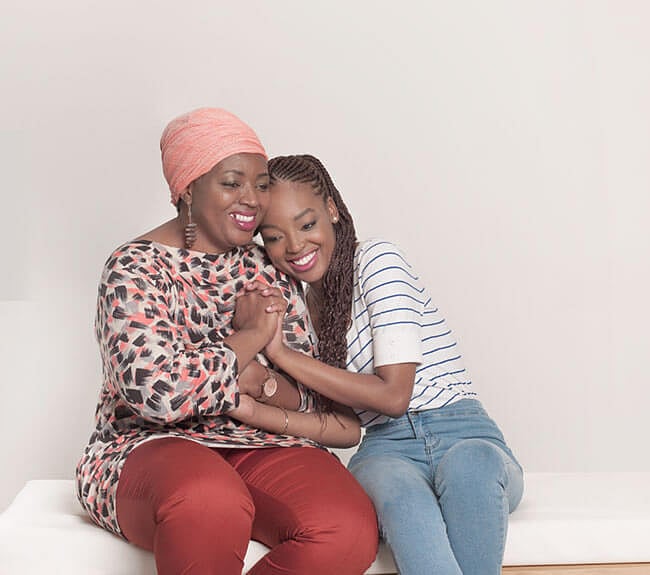 Posted on Wednesday, April 13, 2016
Frieda & Mbali - Our Story
By now you know that 1st for Women is inspired by the beautiful women of South Africa. And yes, that means you, too.

You may have read up on Niamaat & Nur-Jehan as well as Megan & Alta from our television commercial . Now it's time for couple number three!
This is the story behind the story of Frieda and Mbali.

Frieda takes flying high to a whole new level. As a professional flight attendant, she's dedicated her life to making people feel safe and comfortable both up in the air and back at home.

Mbali, her daughter, is dynamite in a small package. She has a smile that brightens the room and the kind of smarts that had her representing South Africa on an academic trip to America some years back.
Together, they've taken on the world! And, while it's hard for them to be worlds apart at times, nothing can come between the connection they have with each other.

They're strong, they're bold and their inner beauty bursts through in everything they do. Even when life gets a little tough, they push each other forward with a see-saw-like strength that just seems to work so well!

"She's always there for me when I need her. She even gives me advice when I'm down! That's it. That's my Mbali for you. My beautiful flower. " - Frieda

"I don't think I'd be where I am today without her. Even though I don't always believe in myself, she does, so it's okay." - Mbali

To us, it's clear that their shared compassion has helped shaped the women they've both become. What's a little less clear is why they find it so hard to take the credit for it. 1st for Women encourages all women to stop, take a moment, and acknowledge the significance of their contributions and the immense value that they have added throughout their lives.

Their contagious energy and confidence inspire us to do what we do for the women of South Africa. That's why we put Frieda, Mbali, and others just like them, first with tailor-made insurance products and the added benefits they deserve.