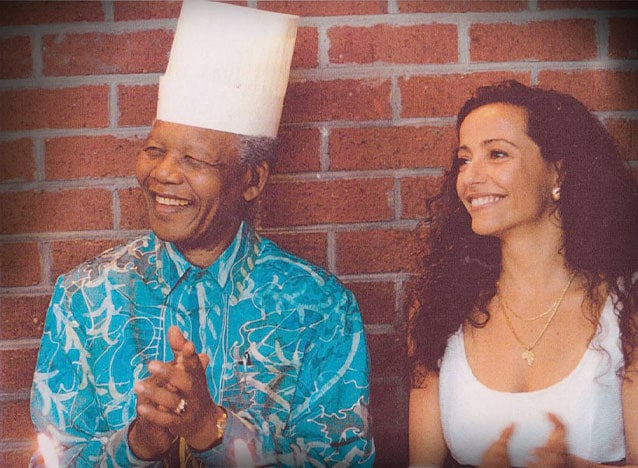 Posted on Thursday, July 29, 2021
Designing for Madiba – A fearless fashionista's incredible journey
We all remember the late Nelson Mandela for many reasons. His relentless fight for freedom and equality. His unwavering hope and endearing humility. His strength, courage and wisdom. What we also remember is his contagious smile, the famous Madiba Dance and of course, his iconic shirts. We know that from his earliest public appearances (following the 1994 elections) Madiba donned bold printed shirts in kaleidoscopic colour – a far cry from the sold muted tones of regular politicians. What not many of us don't know is how the Madiba shirts came to be. And that's why we're here to tell you this incredible story. It started one day in 1994, at the most unlikely of places…
9 May 1994: A brief, bold, brave encounter
Desré Buirski was a woman with a simple dream but one she'd envisioned for years – to give Nelson Mandela a gift. She had learned from a friend that Madiba was to appear at the Marais Street Synagogue, in Seapoint that day. She was elated at her opportunity to achieve her dream, however slim her possibilities. Bracing a crowd of thousands, she determinedly inched her way to the front, where she seized the perfect moment – reaching the front of the crowd as Madiba was ushered into his awaiting car, followed by one of his guards.
Before his security detail had a chance to intervene, the window rolled down and without hesitation she spoke: 'I'd like to give Madiba a gift.' Hesitant but not alarmed, the guard inside whistled his permission to a colleague, who'd overheard the request. Desré handed him the packaged and once satisfied that is wasn't dangerous, popped it into the boot. Desré too was satisfied, she'd achieved her dream and life would return to normal… or so she thought.
A few days later: Fortune favours the fearless
Desré, the woman with the dream fulfilled and the owner of a designer boutique at the V&A Waterfront, was driving home from work when her phone rang. The excited voice of a good friend boomed down the line:
"Have you seen Die Burger today?"
"No, I've never read it in my life," she replied, startled and confused.
"Go buy it right now!"
Intrigued by the strange call, Desré turned around and headed for the nearest shop, grabbed a copy and raced home, where she eagerly flipped through the pages until she spotted it – a picture of Madiba at his dress rehearsal for the opening of parliament. He was wearing the gift she'd given him.
<Insert pic of him in Fish shirt>
Desré pinched herself to check she wasn't dreaming. She sat down and recalled the day before she met Madiba, the year preceding it and the serendipitous series of events that lead to this exact moment.
Desré, who moved to the Unite States with her family during Apartheid, felt a yearning to come home when she heard a speech by Madiba prior to the 1994 elections. In it, he called on those who had left the country to return and bring back the skills they'd learned – of which Desré had plenty. She'd spent decades in the fashion industry, travelling the world, sourcing material and designing garments. His speech resonated with her at a time she desperately needed a change and so she packed her bags and flew back home.
In her rush to pack her merchandise (planning to open a shop in SA) she'd forgotten one male dress shirt that was hanging in her closet. So, she threw in with her clothes and forgot all about it until the night she was searching for Madiba's gift.
You see Desré knew she wanted to give the new president something but because the opportunity to see him arose so fast, she hadn't thought about what to give him. That's when she began rummaging through her wardrobe and found the dress shirt. It was still brand-new, the swing tag from her American shop (Desré's Exotic Imports) still attached.
But it wasn't ideal – it was a size extra-large; it didn't have the most exciting pattern and it was crinkled from the journey. But it would have to do. He can give it away or wear it as PJs, she thought, carefully wrapping it. Then there was the question of a card – she didn't have that either so she grabbed a business card and wrote a short message. And that's how she'd delivered her present.
Desré never expected anything in return for the gift. Her dream was simply to give it to Madiba. But the universe had a far more spectacular plan in mind. In her heart, she knew this was the beginning of something extremely special. So the very next day she called the barely open parliament and asked to speak to Madiba's PA, with whom she would develop a close friendship. The two stayed in touch over the years to arrange the order and delivery of over 200 shirts for Madiba and countless more bulk orders for guests at many prestigious events.
When the call ended, Desré once again felt elated, surely she couldn't expect even more from this already unbelievable experience. Think again Desré…
One day in December 1994: The letter that led to a lifelong friendship
A letter arrives in Desré's post. It's from Madiba. She shakily opens it and is overwhelmed with emotion. In it he thanks Desré for the first shirt and for the many others that followed since. And the one line in the letter she treasures, the line that affirms her burning desire all those years ago, to return home…
"In order for the birth of a new nation, we need many more Desrés."
Fast forward to May 1995 – Breakfast with Madiba
The months following the letter were a whirlwind of activity and passed by in a flash. But the unexpected events related to their blooming friendship had only just began. This time it was a call from Mary inviting Desré to breakfast the with Madiba the following day.
The next morning, Desré arrived at the Office of the Presidency (De Tuynhuys, in Cape Town) a bundle of nerves. The next thing she knows, she was in the warm embrace of her hero, crying into the lapel of his shirt.
"It's such an honour to meet you," said Madiba.
To overwhelmed to speak in that moment – all she could think was: He's honoured to meet me? I am the one who should've said that!
A few minutes later…
After holding her in a warm hug for what felt like an eternity, the two moved into his office, where Desré tried her best to regain her composure and sit upright in a comfortable, well worn leather couch where the two fell into easy conversation – the first of many in the years to come.
The following years
Desré became not just Madiba's designer but his friend. Over the years she would be invited to attend events with guests like Bill Clinton, the King and Queen of Spain, Fedal Castro and of course, Graça Machel, with whom she formed a special bond.
She also met the SA ambassador to Greece who had purchased the famous fish shirt for R18 000 at a charity auction. In 2014, she even had the opportunity to speak about her relationship with Madiba at a UN conference.
Up until his retirement, Desré was a familiar guest in his home, where he shared anecdotes like a call from Giorgio Armani. The famous designed was offended that Madiba chose 'loud' shirts in favour of the sophisticated suites he'd sent him. Years after Madiba passed Desré would also see an interview where Desmond Tutu questioned Madiba's wardrobe choice. The president's response?
"With all due respect there is no point holding a meeting with no solution."
One final project
In the years that Desré had been designing for Madiba, a good friend gave her some advice – keep the offcuts of all the shirts you make. She listened and one day the idea for a quilt came to her. But when she'd finished making it and put it on her bed, it just didn't feel right.
A few days later, another idea came to her. She would convert it into a wall hanging which Madiba could auction for the Nelson Mandela Foundation. This dream came true too when the wall hanging was purchased by the Co-Founder of Microsoft at an auction in Monaco – for €360 000.
The conclusion of an incredible journey… and onto the next one
In 2010, Desré published a book 'Mandela's shirts & me' which she sums up her journey beautifully – especially the final paragraph:
'My life's journey has been intricately woven with my dreams, and goals, all spun into a patchwork of small and large miracles. Each patch representing a part of my life's experience as the woman privileged to be the shirt maker for such an incredible human being.'
'I am not done dreaming'
So, what has the courageous and talented Desré been doing since then? Well, that's another fearless story for another time…