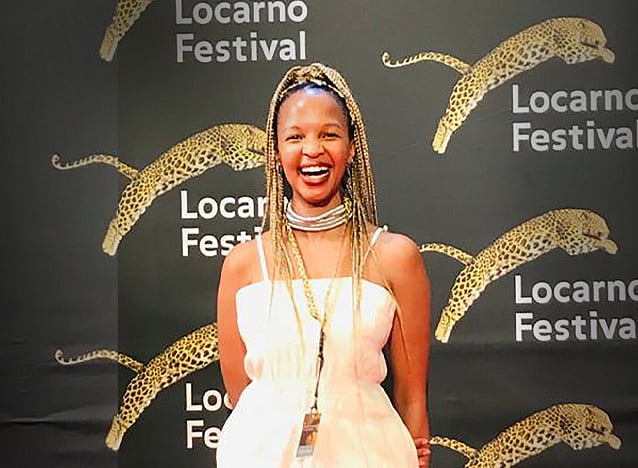 Posted on Friday, October 29, 2021
A 2021st for Women: Thati Pele
Joburg born Thati Pele is a statistician turned film director. For Thati, taking that leap was certainly the right decision. After studying filmmaking in the US, she has a string of awards under her director's belt. Now back in Johannesburg, Thati directs commercials and streaming shows for Netflix. It was on one of those sets that she met media personality Uveka Rangappa. Thati tells Uveka all about her Fearless journey from number cruncher to the director's chair…
You've already accomplished so much in a very challenging, competitive industry. What would you say was your first Fearless moment?
I had to make a decision to leave my 9-5 job where I was moving up the corporate ladder pretty quickly OR accept a tiny scholarship to study an amazing masters in filmmaking at New York University. I had never been there, I knew no one and still had to find a way to raise the bulk of my tuition and living expenses in US dollars. Pretty scary but I just did it!
A statistician turned film director – how did that happen?
Way before my corporate job and New York – I had just completed a Business Science degree at UCT and landed a great job. Instead of taking it, I decided to take a gap year in South Korea and teach English to pay back my student loans.
On a day off, I was walking around an art village called Heyri when a producer stopped me and asked if I wanted to play a nun in a vampire movie. I thought "Nope", but my Korean friends insisted that I at least go and see what it was about. So, a few days later we went, armed with pepper spray!
Well, it turns out the vampire movie was helmed by one of the best "original old school" directors in the world. It went on to win at Cannes and years later the lead actor starred in Parasite. I accepted the role as 'nun number 1', but I also asked to shadow the director for a few days. I was instantly bitten by the cinema bug and he advised that I apply to the world's best universities to study. I did and he gave me a letter of recommendation. Thanks 'Bakjwi'
What's it been like for you as a young Black woman in this industry – especially on the international platform?
There've been some very real barriers to entry. My return from New York was bumpy while I was finding my feet, but I had great support. It's had its ups and downs but overall, it's been "dope"!
I've worked with you and you're just amazing. The way you handle difficult situations with such ease. How do you do it?
Firstly, thank you for the wonderful compliment…I love my job, so I receive it! I think it's a combination of me and my education. I've watched so many very accomplished directors in action. All the great ones are cool under extreme pressure because they know that by the time, they get to set the hard work is done. If you've done your work as a director then you have to trust your actors and the team that you've hired to be able to do theirs. Good sets make great films and micromanaging is so 90s.

Working with actors must be "complicated". While some are easy, I'm sure you've had your fair share of divas…how do you handle that?
The best description I've heard of a director is from Guillermo Del Toro to paraphrase: 'sometimes you act as psychologist, sometimes you are a parent, sometimes you have to set firm boundaries, sometimes you are empathetic'. Always be honest, people know when you are full of BS. My role is to ensure actors can come to work, leave their problems at the door and focus on their craft. I tailor my response for the situation and from person to person.
Go on tell us the truth – you must have been tempted at times to just light someone badly or make that camera add 10kgs?
Lol, no. The cinematographers I work with don't play that game
What did you set out to do with filmmaking and are you achieving that?
To tell our stories with as much joy and authenticity as possible. I always wanted to see versions of myself in the films and TV shows I watched growing up. Bold characters, people of colour who are nuanced, intelligent, curious, rabble rouser, explorers capable of great mirth. I'm very fortunate that I've had the honour of working with incredible creatives who feel the same. So far so good.
What's the endgame for Thati?
Space…the final frontier.
Thati Pele is currently in development of her first feature film, the dark comedy drama 'Brace Yourself' which was invited at the 2021 Locarno Directors Lab in Switzerland.