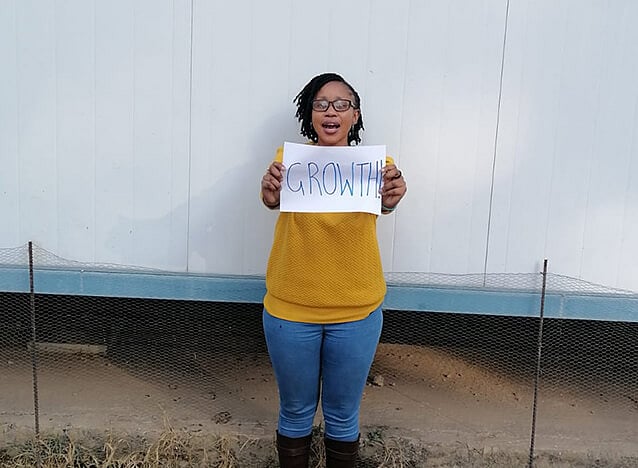 Posted on Tuesday, November 30, 2021
A 2021st for Women: Rethabile Mosese
There are many people who do amazing work to help survivors of Gender Based Violence – and every one of them is vital. But when the decision has been made to stop the cycle of abuse – the correct legal advice is imperative.
How many times have we heard stories about women or children who've been brave enough to speak out, but have been let down by the justice system? This is where non-profit organisations like Lawyers Against Abuse (LvA) come into play, providing both legal services and therapy for victims. The 1st for Women Foundation has supported Lawyers Against Abuse since 2019.
It's thanks to the Fearless commitment of attorneys such as Rethabile Mosese – a survivor herself - that they're able to do the work they do. Rethabile tells media personality Uveka Rangappa what it's like making the law work for survivors of GBV…
Fighting for justice for victims of GBV, helping them through their own fears must be heartbreaking. What would you say was YOUR 1st Fearless moment?
It was earlier this year when I publicly shared my own experiences with gender-based violence. Seeing how everyone in the room held space for me is what helped me overcome the shame and stigma - that it was not my fault and I am not defined by what happened. And that being a survivor does not take away from what I do, that it is possible to carry this history and be a good lawyer. I'm also inspired by my grandmother whose painful story I must acknowledge. She was orphaned, married off at a young age, deprived of education or gainful employment, a young widow left to raise eight children during Apartheid South Africa. "Herstory" represents resilience and the human spirit's potential for overcoming challenges.
Do you draw on this experience in your work?
The wound is the place where light enters and though my grandmother has transitioned to the ancestral realm, she continues to live through me. She reminds me that we, as women, as Black women, are not always voiceless or powerless. LvA creates space for women to heal themselves. So, I walk with my sisters, bear witness to their testimony, hold the system to account and, together, we turn the courtroom into a space for collective healing.
Are you able to tell us about the most difficult case you've ever dealt with?
Certainly, it was LvA's first life imprisonment sentence in a criminal case. On 27 April 2017, Mantwa* was brutally attacked and raped by her ex-boyfriend, Joshua*. Mantwa opened a criminal case against Joshua and was referred to LvA for support.
Despite strong DNA evidence linking Joshua to the crime, the trial dragged on for over 16 months. Joshua had raped at least four other women in Diepsloot who had either left the area or committed suicide. But, Mantwa and her friends (who were witnesses) bravely persevered despite ongoing pressure, intimidation and threats from Joshua and other community members. LvA was there for Mantwa through the entire process. Then, on 21 February 2019, Joshua was convicted and sentenced to life imprisonment. A man who thought he was untouchable, was put behind bars, ending his reign of terror!
We've often heard about how our system lets victims down. How does that impact your work?
The failure of the criminal justice system in cases of GBV creates an environment where perpetrators operate with impunity and are rarely punished for their actions. Despite progressive and victim-centric legislation, victims rarely see justice due to severe deficiencies in implementation by state actors who fail to provide them with the protection they're legally entitled to. Survivors also regularly experience secondary victimisation including discrimination by police, victim blaming, and the often traumatic and adversarial courtroom environment.
Looking at the brutality of so many attacks, what do you think makes the perpetrators of these heinous crimes so inhumane?
Children living in violent homes often learn that violent behaviour in a relationship is permissible and acceptable and that when people get angry, bad things happen. What is often underestimated is the potential effect of such exposure on later relationships. LvA runs interventions for ECD learners to foster empathy and compassion for others, increase positive expressions of gender identity and to reduce levels of aggressive and/or violent behaviour among learners. It is important that prevention starts at an early age.
This is a job where for every victory there's another victim – how do you carry on?
My dream is to live in a world where LvA services are not needed. Sadly, we have a long way to go. I understand that I am in it for the long haul and take time to celebrate the small victories - a final protection order issued, a state actor's changed behaviour towards victims, a community member who holds on to our pamphlet for weeks after a clinic talk and finally comes in for legal assistance, improved partnership and collaboration between civil society actors. All these "small fires" will one day burn down the patriarchy!
*NOT THEIR REAL NAMES