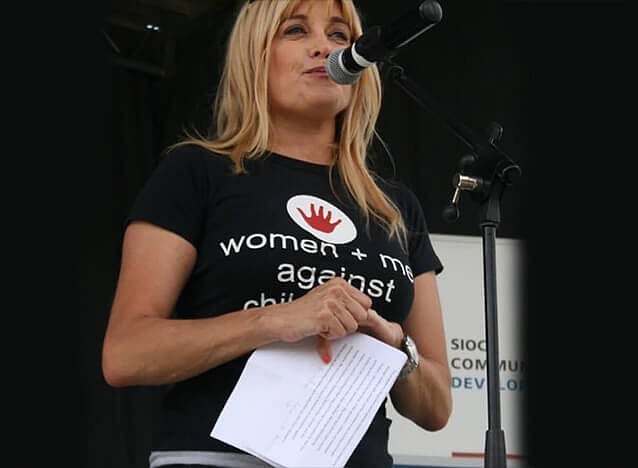 Posted on Thursday, November 25, 2021
A 2021st for Women: Miranda Jordan-Friedmann
As we mark another 16 Days of Activism against Gender Based Violence, we're bombarded with awareness campaigns and often empty promises by those meant to protect our most vulnerable. It's at times like these that we need to salute the real heroes who tirelessly and fearlessly fight the good fight to keep the innocent among us safe and to get justice for those who have survived the unimaginable. Miranda Jordan-Friedmann, founder of Women and Men Against Child Abuse (WMACA) has dedicated her life to helping and healing survivors of abuse despite facing challenges of her own. Miranda talks to media personality Uveka Rangappa about how she has Fearlessly fought against GBV for 27 years
1. As the Founder of WMACA and having dealt over the years with abuse and sexual offences involving children, including your own personal experience, what would you say was your first Fearless moment?
My parents' divorce when I was little was my first moment of fear. One moment I was secure and then my life changed. I realised the impact when I became a mother myself. As a child I was never given a voice during that divorce and decisions were made for me. After monitoring various cases in the media, I called the Child Protection Unit who linked me with a group of women who'd experienced similar vulnerabilities or even abuse and we started the first Pressure/Lobby organisation called The Child Abuse Action group in 1994. A lot of my work especially when I formed Women and Men Against Child abuse and the Kidz Clinics helped me heal from the hurt, fear and helplessness that resulted from my parents' divorce.
2. How did it evolve into your life's work?
When I started, I really didn't realise just how prevalent abuse was - in particular sexual abuse of children - and also how archaic our laws were. But we were lucky to have a lot of media support for so many of our campaigns to address this and put the spotlight on various aspects of our criminal justice process as well as new protocols for child protection. As a result, things started to change as Government felt the pressure and started taking the subject of abuse seriously.
3. It's "heavy"work. Do you ever feel overwhelmed or hopeless?
There are days when it all feels never ending and I start to feel like it's time to get out, so I go to the bush or ride my horse. Often just being with my horse is enough or with my dogs in the garden just feeds my soul. I am very blessed with a wonderful family, my daughter, sister, and close friends who support me.
4. You've no doubt dealt with hundreds of cases over the past 27 years. Are there any cases in particular that affected you?
One was a little girl called Samantha who was raped repeatedly in Hillbrow. Her mother and father left her with friends, one of whom was a prostitute who in turn left the child with her partner who raped her at the age of five and also deprived her of food and water. It took years for her to stop drinking water from the toilet bowel even when she was taken to a place of safety. It took almost two years to get a sentence of 18 years and involved lots of campaigning around public reporting of such cases. I mean there was no way people in the flat did not notice a child being abused - with one arm broken and the other fractured. Then there was Lerato, a six-year-old girl who was abducted by a family friend, raped near the pylons in Alexandra and left for dead. After seeing her in hospital, I began a 16-year relationship guiding her into adulthood and making sure her attacker Ruben Modiba served a life sentence. I started the Kidz Clinic in Alexandra in honour of Lerato being so courageous. What also stands out are the two cases of child abuse brought by survivors who are now adults - one of which challenged the law and set new precedent. These were the Bob Hewitt and Sidney Frankel cases because these were well respected, well known men who destroyed so many lives - we will never know quite how many. For me I want every person who thinks of abusing a child to know that WE WILL DO EVERYTHING IT TAKES TO GET YOU – NO MATTER HOW LONG IT TAKES!
5. How do you cope with all the emotions that come with this kind of work?
Anger is a great motivator to do things and be active. The sadness and desperation are far more difficult, but I know things are slowly getting better – children are speaking out more than ever before including male children and that gives me hope. That's the reason I can carry on!