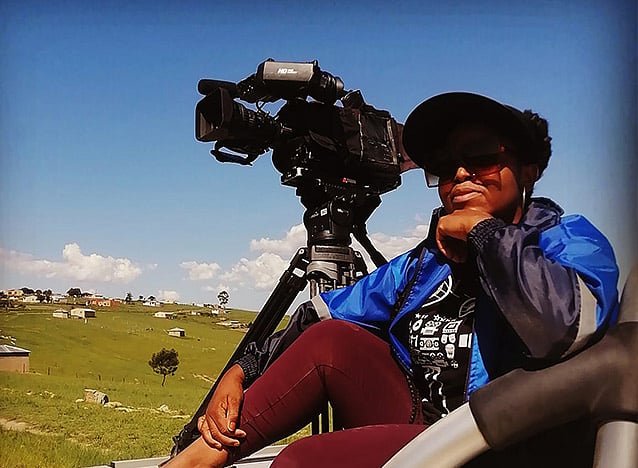 Posted on Wednesday, October 13, 2021
A 2021st for Women: Lebo Kobola
As a camera operator for news channel eNCA, Moleboge "Lebo" Kobola, has found herself in some scary situations. But none of those could prepare her for the news she received in May 2020. More than a year after first finding a lump in her breast, Lebo finally had it checked out. She was told she had stage 2 Breast Cancer - she had just turned 31. Lebo had the lump removed and underwent Chemotherapy. A few months later in October, she made the brave decision to reveal her Breast Cancer diagnosis live on the Health Focus on eNCA with Uveka Rangappa. Lebo's colleagues had no idea what she'd been battling. A year later, Lebo talks to Uveka again about how she Fearlessly battled Breast Cancer.
As a camera operator, you're often thrown into precarious situations. If you had to look back on your 1st Fearless moment, what would it be?

In my line of work I encounter a lot of heart wrenching situations but the one that got to me the most was a story at Chris Hani Baragwanath hospital. We had to capture visuals of people with severe injuries during the festive season. I saw people who'd lost body parts and some so badly hurt they were on life support. One of the doctors showed us patients who were literally brain dead and they were waiting for the families' permission to take them off the machines. I still smell the blood and medication in the ward. But I had to put my feelings aside and just do my job. I could have easily neglected the story, but I stuck to it and produced a piece that touched many South Africans.
What was the most difficult part of your breast cancer journey - waiting for the diagnosis, the treatment or going public with it when you spoke to me about it live on air during the health show?

Every stage had its own challenges, but I think the most difficult times were when I was given the diagnosis and having to detail my experience to you live on TV. My results were given to me telephonically since it was COVID and lockdown. I just could not handle the news and I broke down for days.
What were the emotions that ran through you when you heard the diagnosis?

I was in disbelief and I asked myself questions like "why me". I actually thought they had made a mistake as I'd always believed such diseases only affected older people.
How has breast cancer changed your life?

Physically, cancer has changed my appearance in some ways. After the lump was removed from one of my breasts, I had to have reconstructive surgery to align them. Chemotherapy caused me to lose my hair. I gained weight, which was very different compared to other patients. I also have to take medication that puts me on controlled menopause. I have to pay more attention to my wellbeing and diet.
What has it taught you about YOU?

I now appreciate a lot of things about life as I don't push myself beyond my capabilities. I am taking life as it comes.
Has it made you Fearless or more Fearful?
Cancer made me Fearless. It made me realise I can achieve whatever I put my mind to.
Many people might see Breast Cancer as a death sentence but you stay positive - what is your advice to them?
Firstly accept the situation. Seek emotional support from groups of people who are going through the same thing, and your family and friends. Pray or meditate to calm your emotions, stay positive, don't be hard on yourself, Take all the advice from your Oncology team, ensure that medication is taken as prescribed, be patient as it can take years for you to stabilise and before you know it, it'll be behind you.