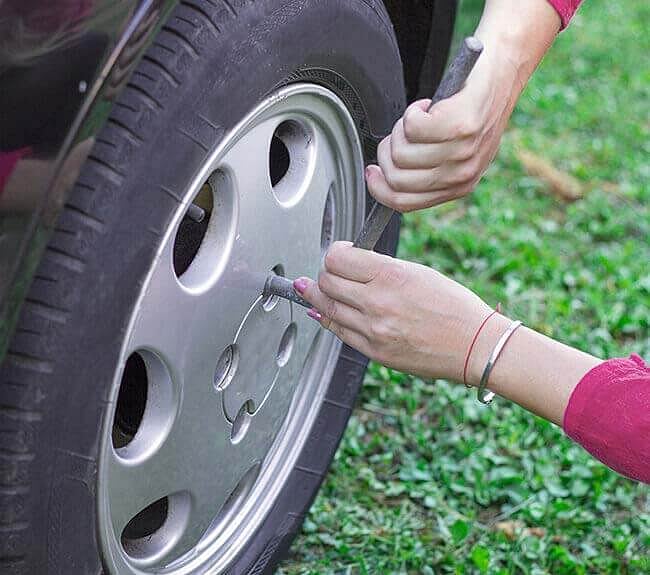 Posted on Monday, November 7, 2016
How to change a tyre (and why you never have to)
Read this article and you'll never need to worry about getting a flat again! And hopefully, you'll be able to do the job with nails intact and not a mark on your LBD, which just makes everything way more impressive. Of course, as a 1st for Women policyholder your policy includes the Guardian Angels Lifestyle Assist benefits which include the Road Assist benefit – and should you ever suffer a flat battery, tyre or any other kind of breakdown, we'll come to your aid immediately! So, while you may not ever need the advice below – it's useful to know, and please feel free to print it out and give it to a friend who isn't insured through 1st for Women
Part 1 – getting started.
If you've already tried calling everyone you know for help and no-ones answering, prepare yourself. Repeat after me "I can change this tyre myself". A couple of deep breaths should help too. Now let's get going:
Make sure you're somewhere safe before you stop. Look for a well-lit area, out of the way of traffic.
Start on a flat surface – changing a tyre won't work on a hill or incline, because you don't want your car rolling away. Make sure your handbrake is on, and the car is not in gear.
Remove the spare, (usually in your boot) and roll it to where you need it to be.
Take off the hub cap or wheel cover – a screwdriver inserted into the side where the cap meets the wheel and jiggled about should pop it off. (Think of it as taking the lid off a tin of paint – but with a little more elbow grease needed.)
Find your wrench, and use it to loosen the wheel nuts. The wrench should fit snugly over each nut and you just need to put some weight behind it to get them to move and turn (sometimes using a foot and stepping on the wrench with force can help – remove expensive heels first). Don't take the nuts completely off – you'll only remove them later when you've jacked up your car.
Part 2 – the hard(er) bit
This may take a little effort - but as a woman, you do much tougher things than this every day! Promise yourself a reward afterward, and get going.
Place the jack securely under the edge of the car – your car manual should show you exactly where to place it. Then pump the handle up and down until the car is around 15 cm off the ground and the flat tyre is not touching the ground at all.
Take off the loosened wheel nuts by hand and pull the tyre towards you.
Put the spare tyre on to the bolts where the wheel nuts were. Once the tyre is in place, but the wheel nuts back on and tighten them by hand and with your wrench. They don't have to be perfect right now - you'll tighten them again when the car is on the ground.
Part 3 – the end
You're on the downhill now, take heart – it's almost over! Not only will you be on the road again soon, but you'll be able to impress everyone you know with your general awesomeness.
Pump the jack down to put your car on the ground, and then use your wrench again to tighten the wheel nuts as much as you can.
If you're feeling confident replace the hub cap yourself – by whacking it back in (a shoe works well here), or wait until you find a service station that can do it for you – it's not essential to the functioning of your car.AddThis Sharing Buttons
Alternatively, simply call 0860 10 42 12 and 1st for Women will despatch help to you right away – and one of our Guardian Angels in their (very) pink BMWs will be with you as soon as possible to get you safely on your way!