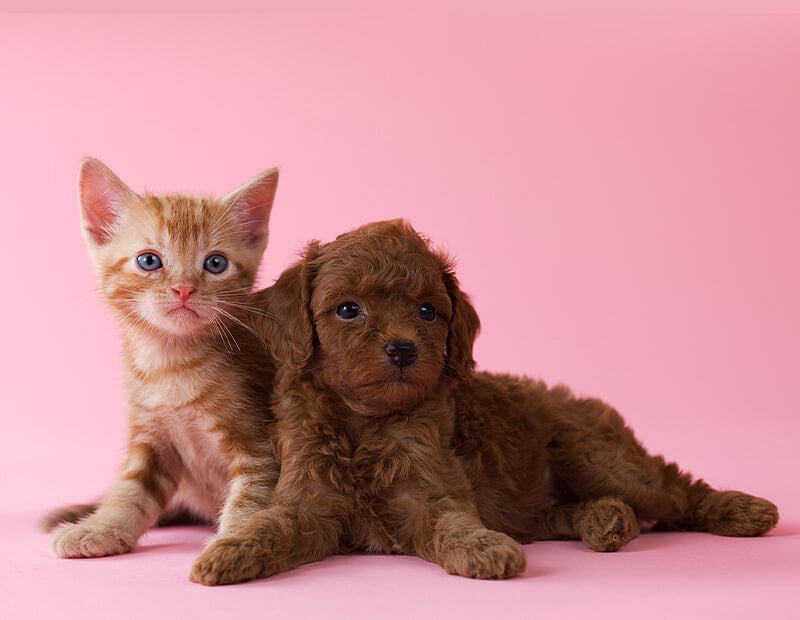 Posted on Tuesday, April 12, 2022
Protect your pet at home and away
Gone are the days when you had to leave your pets at home, when you took a trip. With the growing trend of pet-friendly travel, you can take your furry friends pretty much anywhere. Just do a Google search for pet-friendly flights or accommodation – and boom, a ton of results pop up! That being said, pet travel isn't suited to everyone, or every trip. That's why we've put together helpful tips for keeping them safe, both at home and on holiday. Either way, it's a good idea to ensure they're covered.
Take a look at 1st for Women Pet Insurance, which offers a variety of awesome perks like like a Pet Taxi (your pet's personal chauffer) and [email protected] (a 24/7 dedicated healthcare line, for professional emergency and medical advice).
Now that insurance is sorted, here's a look at specific tips for a pet vaycay and staycay.
Vaycay tips
Airlines like LIFT have made it easy to travel with your pet – right next to you! To prep your pet for a pleasant flight, here are some useful pre-travel tips: 1
First things first – check with your vet if your pet is suited to travelling.
While LIFT allows you to travel with certain pets next to you, if your pet doesn't meet the criteria or you're flying another airline, they may have to be kept in a crate. To ensure that they're comfy in a confined space, it's advisable to get them used to it beforehand. Let them sit inside and explore the kennel or crate but don't close or lock the door.
Put a familiar item inside the kennel or crate. Things like their blanket or an item of your clothing will help keep them calm and content.
Make sure that nothing obstructs the ventilation of the kennel or crate – don't add any excess or bulky items.
Pets tend to travel well. That's why it's important that they stay alert. Ensure that they aren't too heavily sedated or tranquilised. Consult your vet for the right dosage.
Make sure your pet is well hydrated and hasn't eaten for at least four hours before departure.
If you're planning a road trip with your pet, here are some practical tips:2
Make sure their dog/cat tags are up to date.
Pack their vaccine record.
Make a dedicated and comfy spot just for them.
Reward them with treats to reinforce good behaviour.
Always have water available for them.
Stop for regular bathroom breaks (make sure to choose safe spots).
Keep them occupied with toys.
Bring a crate along in case you need it for hotel stays.
Try camping, when you can, to give your pet more place to roam.
Make sure your destinations are pet friendly.
Never leave your pet alone in the car.
Always pick up after your pet.
So, there you have it, practical tips for travelling with your pets. Next, we look at how best to prep them for staying home.
Staycay tips
There are a few options to consider for pet care while you're away. These include pet hotels, kennels and catteries, a full-time house/pet sitter or a neighbor/friend checking in daily. Some vets also offer a boarding facility. Depending on your choice, the check list may be slightly different but in essence, here's what to cover:
There is always fresh drinking water available.
They are given the right meals at the right times.
They get enough exercise and activity to avoid boredom and frustration.
If they're on any medication, that this is given to them as prescribed.
The person looking after them has your vet's contact and emergency numbers.
Sources:
https://www.news24.com/News24/what-you-need-to-know-about-planning-a-flight-with-your-cat-or-dog-in-sa-20160203