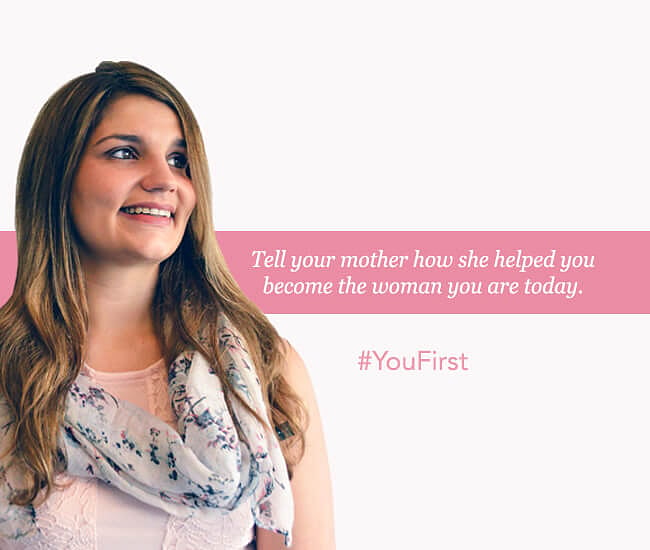 Posted on Thursday, May 11, 2017
Messages to your mother
Messages to your mother
Real women on the big, beautiful cycle of motherhood
Of all the women in your life, how often do you affirm your mother? Or yourself, simply for being one? Women do so much for so many, and seldom put themselves first – particularly when recognising the incredible qualities they silently instil in their children. And the many powerful and inspirational ways they put their children first.
On our mission to understand the realities of South African women, 1st for Women insurance asked real mothers how they tackle the challenges and triumphs of motherhood – to better tailor-make home insurance, life insurance and car insurance for the women who want to protect what's precious.
A life of care and compromise
"I never realised my daughter would be the greatest friend I'd ever have. The truth is: before I became a mother, I was lonely," says Portia, secretary and mother of Bokamoso, who is three years old. "Now the most pivotal goal in my life is to keep her safe and happy. I've never known that kind of dedication."
Portia's role as a mother means grappling with real challenges too. Challenges that come as a result of constantly putting her daughter first.
"I have to wake Bokamoso up at four in the morning, to travel and get her to crèche on time. When she's deep in sleep, waking her is the hardest thing I have to do. But I know getting her to a safe place while I'm at work benefits her in the long run."
The best part of Portia's day is watching Bokamoso's face light up when she fetches her from school, after being away from her for almost twelve hours. And Portia is determined to give her daughter the opportunities she never had. She's driven to ensure her daughter is well-educated and has an open line of communication between the two of them – something Portia herself never had.
"All I can hope for is that she's gentle, sensitive and wise. Even at three, I can see she's strong and disciplined. How much of that comes from me? I don't often think about it, but I suppose it has to come from me."
Years of youth
The challenges of being a mother shapeshift as children grow through the many stages of life. Stefnie, a paralegal in her fifties, says the magical – sometimes unbelievable – thing about being a mother is watching a tiny body in a bundle of blankets develop into a real person. If you're lucky, like Stefnie, a person of whom you can be proud.
"I didn't have a relationship with my mother the way I do with my daughter. She's my best friend. Being a single mother wasn't easy. Making sure she has everything she needs is hard work. It's the call of duty for a mother – you put your children first, no matter what. And hardly ever take credit when you watch them bloom into strong and honest people."
Stefnie believes there's no other way to be a mother. In her opinion, it's part of the deal.
"A child doesn't choose to come into the world. It's a decision made for them. It's unfair not to give them the tools they need to go into the world with the right attitude."
Raising responsibly
Debbie, who's in her forties, says she's often surprised at the real and visible effect she has on the people her children are becoming. Knowing she's raising a child who cares about animals and the environment fills her with pride. But she's slow to take credit for it.
"Environmental awareness and animal rights are a personal passion of mine. When my son, who's ten, announced he was becoming a vegetarian, I almost fell of my chair. I didn't think for a second that it was a reflection of my beliefs – I was just so proud of him. I suppose that's the reality: as mothers, we pour our heart and soul into our children, trying our best to grow them into good people. And when it does happen, we can't quite believe it's because of us."
As Debbie puts it: there's no such thing as being a perfect mother. You make the right decision with the information you have available, and then hope for the best.
A strange and beautiful cycle
Buhle, a developer in her twenties, is unfazed about working in a male-dominated environment like IT. Her success against the odds, has spurred her on to instil the belief in her daughter that she can do anything she puts her mind to.
"Many South African women have no choice but to send their young daughters to live with their grandparents from a young age. I'm fortunate enough to be in the position to keep my daughter close to me – even if it makes life difficult at times. It means I can imprint my values and principles on her. Nurturing her into an intelligent and confident woman is the most important thing in life."
Compromise is a part of Buhle's daily life. She finds herself unconsciously putting herself second, in everything she does, to give her daughter access to endless opportunities. And although her upbringing was vastly different to her daughter's, she wishes she knew the enormity of being a mother earlier in life, so she could give her mother credit too.
"I don't readily give myself credit for being a mother. My mother didn't give herself credit for being a mother. And likely, neither will my daughter. Being a mother is the most natural role in the world, albeit not the easiest. Yet it feels so unnatural to take credit for motherhood. It's a strange and beautiful cycle. I just wish someone had stopped to ask me what I'd like to thank my mother for, when I was a girl. Because maybe she never knew just how strong she really was, even when she didn't feel it."
What's the one thing you wish your mother knew? Mothers do so much for so many and seldom put themselves first, which is why 1st for Women does. And why they're calling on women to tell their mother the one thing they wish they knew. Click here to enter the #YouFirst competition and you could win a professional photoshoot to capture the incredible and inspirational qualities of the women in your life. Ts&Cs apply.