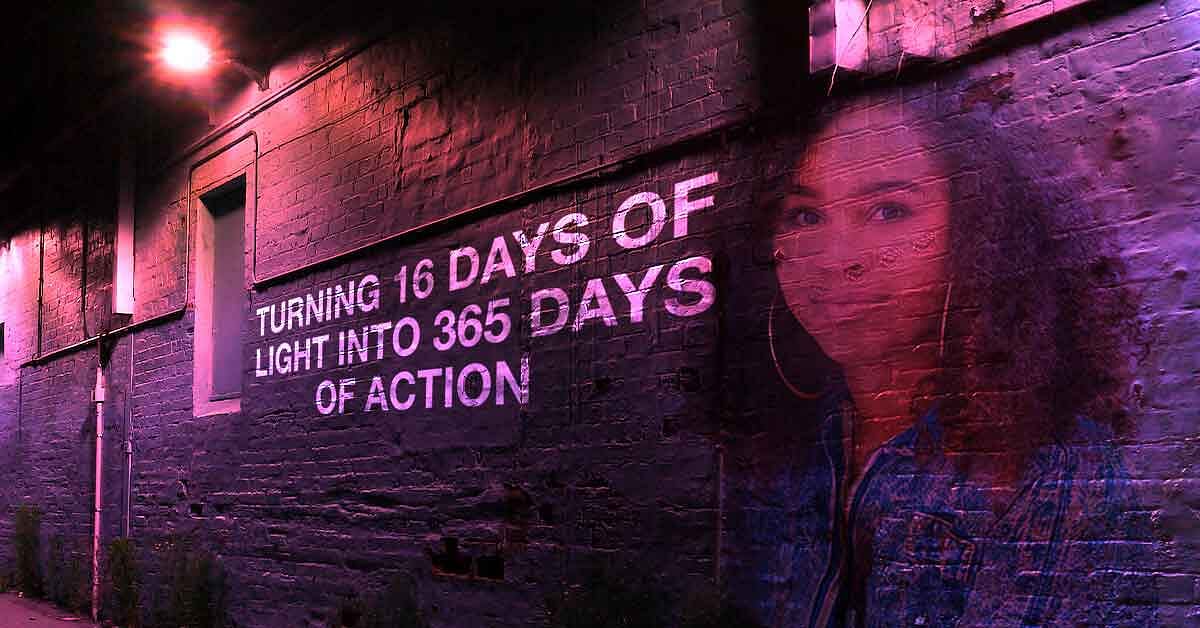 Posted on Thursday, December 12, 2019
Turning 16 days of light into 365 days of action
For 16 Days of Activism we shone a light on woman abuse – remembering the past to give power to the present through moving tributes that celebrate the lives lost to abuse. But remembering is not enough. 16 days is not enough. That's why we'll keep the light shining for 365 days a year, every year.
In fact, we've been shining the light on this dark subject for over 14 years. Through the 1st for Women Foundation, we have raised over R70 million for woman abuse causes and assisted over 90 000 survivors to date – a permanent beacon of hope in the ongoing battle against woman abuse. A battle that was finally declared a national crisis.
We live in what our President has called "one of the most unsafe places in the world to be a woman"1. A country where a woman is murdered every three hours2 and where 52 420 sexual offences were reported in just 365 days3. The horrific events that occurred this year were the tipping point for South Africa. They also prompted us to re-evaluate our Foundation's approach to fighting woman abuse and launch a new preventative and response programme that takes into account and addresses the root cause of the epidemic.
Although the Foundation has done tremendous work, we believe it can have an even greater impact in the future. And as woman abuse in South Africa is a complex issue, one that requires a multifaceted approach to address the underlying attitudes, beliefs, practices and systems that condone, justify or excuse gender inequality, we need a multifaceted solution going forward.
In developing its new strategy and to support its approach, we turned to the United Nations' 2030 Agenda for Sustainable Development to end poverty, fight inequality and injustice, and tackle climate change by 2030 (SDG), Africa's Agenda 2063, South Africa's National Development Plan and Urie Bronfenbrenner's Ecological Framework.
Through our research we found that male superiority and a culture of violence which manifests itself in the form of patriarchy, control, sexual entitlement and unhealthy conflict resolution skills are determining factors towards woman abuse. This was confirmed through research conducted in six gender-based violence hotspots in South Africa, where it was found that patriarchy is the biggest driver of woman abuse in South Africa.We also found that a prevention and response approach to addressing woman abuse in South Africa is critical.
We believe that education is a fundamental tool in the fight for gender equality and will be launching a school-based learning programme at 20 registered Early Childhood Development (ECD) Centres and five Primary and High Schools in the Diepsloot community for children aged three to 18. The programme also includes a comprehensive community-based support programme for survivors of abuse (from trauma to prosecution) which is currently being implemented with Lawyers Against Abuse in Diepsloot. Self-defence training and a digital tool will be integrated into the programme at a later stage.
Diepsloot was selected as it has some of the highest rates of violence against women ever recorded in South Africa - more than double those reported in national studies. A national roll-out will be considered following a successful pilot in Diepsloot.
Our implementation partners for ECD learners include Think Equal, the first global education initiative endorsed by the UN Human Rights Office and the Ntataise Trust, an independent organisation that helps women in disadvantaged, rural communities gain the knowledge and skills needed to establish and sustain effective ECD programmes for children in their care. Through this programme, learners will be equipped with social and emotional intelligence and values-based skills to end discriminatory mindsets and the cycle of violence.
REPSSI (Regional Psychosocial Support Initiative), a leading African psychosocial support organisation has been selected to roll-out the Primary and High School programme.
The programme includes self-esteem, physical alertness and body consciousness training for girls and the 'Peace is a Decision Programme' for boys, which is focused on training and equipping boys with the necessary social courage to challenge cultural norms that condone violence against women and girls, and to intervene when girls and women are being abused.
REPSSI will also provide training for parents, caregivers, teachers and school leaders.
Woman abuse is a dark subject. It happens in the dark. When it's not reported, it stays in the dark. That's why we're committed to bringing it into the light and keeping it there because it is only with constant illumination that the subject will remain in focus – not just for 16 days but for 365 days a year, every year.
1http://www.sabcnews.com/sabcnews/sa-is-one-of-the-most-unsafe-places-in-the-world-for-a-woman-to-live-ramaphosa/
2https://www.moneyweb.co.za/news-fast-news/woman-murdered-every-three-hours-in-south-africa-stokes-protests/
3https://www.thesouthafrican.com/news/bheki-cele-details-plan-to-tackle-gender-based-violence-in-south-africa/