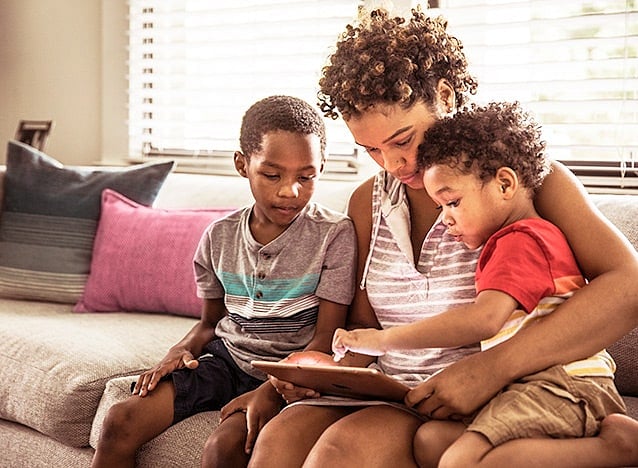 Posted on Friday, September 11, 2020
The post-Coronavirus world: Skills to teach your children
We don't know when the COVID-19 pandemic will end when our children will return to school as normal, when every industry is once again up and running, or when we can freely take a holiday and visit our loved ones.
What we do know is that the world will never be the same after the Coronavirus pandemic is over. For a long time to come – perhaps forever – we'll be wearing masks when we're sick, sanitising our hands and shopping baskets, and maintaining a wary distance from strangers in public, even when the virus is no longer such a threat.
In this rapidly changing world, it's important to equip our children with skills that are necessary to not only survive in a post-COVID-19 world but to thrive. We know it's already difficult for many parents to find the time to teach their children school work, but many of these skills are either already taught in school or are taught as part of their everyday upbringing.
Here are some of the skills your children will need as they progress through school and into the working world.
Digital dexterity
In September 2019, CareerJunction released a jobs index report which showed that digital skills, like software development, are among the most in-demand in South Africa. It's been clear for years that digital skills are a must for upcoming generations to possess.
With the Coronavirus outbreak, having these kinds of skills is more important than ever. Children need the computer and cyber skills necessary to, at the very least, attend school (and later work) remotely. This is probably not the last time our world will face a pandemic of this proportion, and many companies are now considering permanent work-from-home set-ups, so remote working is only going to increase.
In South Africa, this is even more important because so many learners don't have access to computers or the internet, and without these, they can't learn these essential digital skills. For some, programming will set them on the path to a successful career, while for others, learning the basics, like how to use a laptop or Mac, Microsoft Office, and access the internet, could change the course of their lives. Where possible, encourage your children to take subjects at school that relates to digital prowess, whether that's basic computer literacy or computer programming.
Learn more about Self-acceptance during the time of COVID-19 and beyond
Vocational virtuosity
While remote working and digital skills are going to be more important than ever, so are vocational skills. During the Coronavirus pandemic, we've seen just how vital front-line workers are in keeping us healthy and help make our lives as normal as possible. From retail staff, to medical professionals, to at-home caregivers, these are the unsung heroes who keep the wheel turning. Children should be encouraged to study trade skills and be taught that there is a lot of pride to be had in performing these essential jobs.
Mindfulness matters
This is a tough skill for adults to learn, let alone children. Studies have shown that people touch their faces anywhere between 16 and 23 times per hour without even realising it. Because many viruses – including COVID-19 – are contracted through the eyes, nose, and mouth, this unconscious habit is one we all need to mindfully combat. As hard as it is, it's important your children are aware of their bodies and make a conscious effort not to touch their faces.
Mindfulness also refers to a mental state where you focus on your awareness of the present moment and acknowledge your thoughts and feelings. In such a chaotic and stressful world, this is a useful skill for children to have. it helps to relieve anxiety in stressful situations and develop coping skills in our fast-paced and uncertain world.
Learn more about dealing with your kids's corona anxiety.
Soft skills
Often underrated, having soft skills can get an individual far in their schooling and working career. These include communication skills, time management, people skills, and creative thinking.
If you thought it was hard to have a constructive meeting at the office, having one over Zoom is even more challenging. The natural conversation and turn-taking that happens when people meet face-to-face don't flow as easily in an online meeting room. And without body language, it's much harder to read another person's attitude and demeanour.
Children will need to learn and re-learn soft skills that enable them to effectively work on their own and communicate with others while isolated. They need to be able to manage their time and get all their tasks done at home where there are often more distractions and no one to help them focus.
Soft skills are also important because once they've been taught, they can be applied in any role or job. A software developer who works behind a computer needs people skills as much as a customer service agent who deals with the public because communicating effectively with colleagues will be more important than ever.
Perhaps the most important soft skills of all are adaptability and resilience. In such a rapidly changing world, where we are all facing something we've never faced before, being able to adapt to and overcome your circumstances is vital to thriving.
Multitasking masters
Even before COVID-19, our country's unemployment rate was high. Now, with so many businesses retrenching or closing down entirely, work is going to be even harder to come by. It's important for children to learn multiple skills that can enable them to take on any number of roles, so they can get work wherever they can. At the same time, they might need to be able to do more than one job at a time just to put food on the table, so being able to multitask will be essential in the post-Coronavirus world.

There is so much uncertainty in the world right now, but we can be confident that our lives as we know them won't ever be quite the same. Equipping children with the basics of these broad skill sets will help them not only navigate their way through unprecedented times but will help them flourish and hopefully make the world a better place.
Sources: Business Tech; The Balance Careers; Healthline