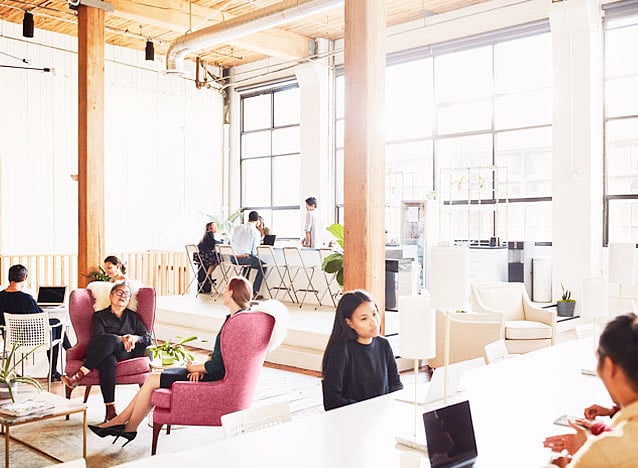 Posted on Thursday, September 10, 2020
The office where everyone has a second job
If you've had to feed a child during a video meeting with colleagues, you're not alone. This is the new normal.
For many women, working from home has always seemed like the ultimate goal. Getting an extra hour of sleep by skipping the morning commute or having a few quiet moments to yourself when the kids have been dropped off at school and the workday has yet to begin – that's the stuff of dreams.
Then the COVID-19 pandemic hit and working from home has been far from the relaxing lifestyle anybody imagined.
Anyone with a job where working from home is a possibility is privileged in our current situation; there's no denying that. But that doesn't mean it isn't incredibly tough. Tougher than anything they might ever have had to do, particularly for women.
The title of this article is a misnomer, because let's face it. As women, we don't just have second jobs at home. We have third, fourth, fifth – fifteenth jobs! On any given day, women fulfill a number of roles. Daughter, mother, friend, nanny, cook, colleague, cleaner, teacher, driver, pet-sitter, leader. However, under lockdown, women have had to wear all of these hats, all at once, all the time. Instead of having a work-life balance, there's now a work-life continuum, where it's difficult to see where one part of your world ends and the other begins. The support systems we normally rely on, like childcare, transport, domestic work, and schooling, weren't available for months. Now that they are, many women are understandably hesitant to place themselves and their family's health at risk. So they are still under pressure to perform at their peak in these roles.
The second shift
In 2019, the World Bank reported that 45.38% of South Africa's labour force was female. Despite their increase in economic participation over the last few decades, women are still largely expected to take on the bulk of the household work. SociologistArlie Hochschild calls this the 'second shift' because when you've finished your day job, you're coming home to cook, clean, help with homework, fetch kids from netball practice, and more.
Working from home seems to have made the second shift even more taxing on women. Research from Germany suggests that women working from home spend on average three hours more per day on childcare compared to when working from an office. The personal experiences of many moms in South Africa can confirm this, with having to find time in between your usual workload and meeting schedule to look after littles and homeschool older kids.
Here is some more advice for women, by women
Making it work
Things aren't likely to return to 100% normal any time soon, so it's important that women working from home find ways to cope with this relentless work-and-home schedule. Here are a few tips to help you keep your sanity during this stressful time:
Be honest with your manager and colleagues. You might have someone at home whom you're caring for, such as your child or an elderly parent. Or maybe you live by yourself and the responsibility of keeping a tidy home is yours alone. No matter what your situation is at home, chores and responsibilities are going to have an impact on your workday. Rather than hiding these things, be upfront about them with your employer so they have realistic expectations of what you can and can't get done during working hours.
Structure your time. It isn't always possible to stick to a schedule when children are involved, especially very young ones, but try to set times during the day when you will dedicate all of your focus to one task. For example, between 8 am and 9 am, you answer emails. At 10 am, you put on a load of washing. Between 12 pm and 2 pm you homeschool.
This might also mean having to set boundaries with co-workers when you can and can't attend virtual meetings. You will need to be flexible of course, but try your best to stick to your schedule.
Create a family plan. It's important to include every member of the household in a family plan of what each workday will look like, and communicate clearly what each person should be doing and when.
Setting boundaries for your children about when they can disturb you is important, just as you should honour the times you have allocated to them, rather than working through these periods.
Read more about dealing with your kid's corona anxiety
If you have a partner who works from home, it's vital they contribute to maintaining the house and looking after the children. Why not try each taking on specific chores that need to get done daily and weekly. That way, the home maintenance, and childcaring are shared fairly and you both know what you need to do at all times.
Make your own space. It's important to have a workspace that is just yours. Working at the dining table where your spouse also works and your kids are doing their homeschooling is not going to help you be productive. Even if you just set up a small desk in the corner of a shared room, having your own space will help you and your family members to keep work and home separate and respect your boundaries.
Check-in with your family. As trying as these times are, they also offer a unique opportunity to spend precious time together that you might never have again. Schedule short breaks for everyone to connect. It could be a 10-minute tea break or sitting down together for lunch. Take advantage of this time and recharge your batteries by spending quality time with your loved ones.
We are living in unprecedented times and it's important to adjust your expectations of yourself. Things aren't normal, so don't expect to function and perform as normal. Be kind and forgive yourself when you don't get through all the tasks you set out for the day. You are doing your best and that's good enough.
Sources: Trading Economics; Forbes