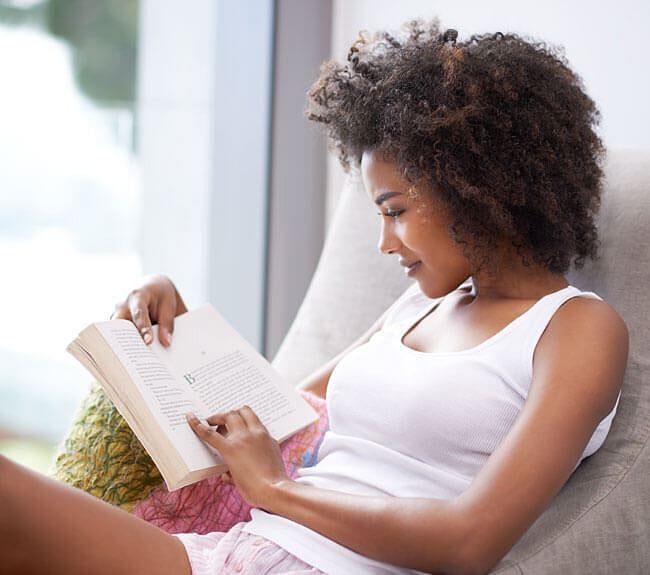 Posted on Friday, January 27, 2017
Reading expands the mind: SA novelists for your book club or library
South Africa has a rich selection of female writers who are busy making waves in the international world of fiction. If you haven't read some of these talented women's novels, now is the time to start… Covering everything from grisly otherworldly murders, tautly written psychological pieces, gender and political explorations to coming of age stories of an African childhood, these gripping reads will be an inspiring addition to any bookshelf or book club.
Lauren Beukes: Arguably the most well-recognised SA female author, Lauren's half-fantasy, thrilling novels include The Shining Girls, Broken Monsters and Zoo City and have been translated into more than 23 languages for readers across the world. From a time-travelling serial killer to a dystopian Johannesburg and a young woman with a sloth on her back, Lauren Beukes' writing is well-researched, imaginative and deeply engrossing.
Miriam Tlali: The first black woman ever to publish a novel in South Africa, Miriam Tlali's Muriel at Metropolitan was published in 1975 in South Africa, and later translated in several different languages. Both this and her next novel, Amandla were banned by the apartheid government. A truly inspirational writer, Miriam Tlali founded the publishing house Skotaville and as a member of the Women's National Coalition, she assisted in drafting the Preamble to the South African Women's Charter.
Rachel Zadok: Rachel's first novel, Gem Squash Tokoloshe, was published to great acclaim in South Africa and abroad and was subsequently shortlisted for The Whitbread First Novel Award (2005) and The John Llewellyn Rhys Prize (2005). The book provides an entertaining and sometimes disturbing glimpse in to a childhood spent in Africa. Her latest novel, Sister Sister, was published by Kwela Books, and nominated for the Herman Charles Bosman Prize; the UJ Prize and the Sunday Times Fiction Award.
Nadia Davids: Although she's just published her first novel An Imperfect Blessing, Nadia Davids is a well-known playwright whose writing has garnered various theatre awards and nominations and been staged internationally (in Africa, Europe and The United States). Set in Cape Town, An Imperfect Blessing "places one family's story at the heart of a country's rebirth and asks big questions about faith, race, belonging and freedom."1
Henrietta Rose-Innes: JM Coetzee said of her work: "Henrietta Rose-Innes writes an admirably taut, clean prose … a welcome addition to the new South African literature." Ninevahm which deals with an insect infestation at a planned luxury resort, was published in the UK and US in 2016, and translated into Spanish and French and was shortlisted for the South African Sunday Times Fiction Prize and the M-Net Literary Award. Henrietta's latest novel The Green Lion centres on the escape of the last black-maned lion and 'explores the animal instinct in human nature, the battle between chaos and order and the effects of the past on the present with writing so powerful it informs all your senses".2
Margie Orford: If you're a lover of crime fiction, look no further than Margie Orford's well-written and plotted page turners. Her main character, Dr Clare Hart, is a police profiler, filmmaker and journalist, working the streets of a Cape Town riddled with corruption, ravaged by violence and frequently buffeted by a screaming South Easter. Currently there are five Clare Hart novels, so begin with number one, Like Clockwork and you'll still have four more to enjoy: Blood Rose, Gallows Hill, Daddy's Girl and Water Music
Zoe Wicomb: Zoe Wicomb's first full-length novel David's Story, is set partly in 1991, toward the close of the apartheid era and explores "the role of coloureds and women in the military wing of the ANC, and the challenges of adjustment to the realities of the New South Africa". 3 Playing in the Light, her second novel tells the story of the daughter of a coloured couple who have passed for white all their lives. As Marion finds out more about her parents and the past, she begins a journey that reveals the truth about herself and post-apartheid South Africa. Her latest novel October, published in 2015, is set between Scotland and South Africa and asks its characters searching questions about the nature of 'home'.
Sally Andrew: If you haven't met Tannie Maria yet, now is the time to buy Tannie Maria's Recipes for Love and Murder and introduce yourself. Set in a small town in the Karoo, this easy-to-read mystery is shot through with Tannie Maria's amazing love of cooking (and eating!) as she tracks down a killer and dispenses advice (and recipes) through her weekly column in the local paper. Sally Andrew has recently written a sequel, Tannie Maria and the Satanic Mechanic, and both are delightful, intriguing feel-good reads.
Cynthia Jele: Fans of chick-lit will love Happiness is a Four-Letter Word, Cynthia Jele's fizzy tale of four friends set in Jozi, dealing with love, life and loss. Zaza, spoiled and married with children is having an affair and waiting for her world to crash in around her ears; Nandi's wedding is moments away and she's having doubts; Tumi's always wanted a child, but not one her husband fathered with someone else; and Princess, the ardent feminist is finally, unwisely, in love. These four feisty women will be your BFFs in this Sex-And-the-City meets Sandton romance.
Now that you have some home-grown South African women authors to look forward to reading, why squeeze a few more books into your 'me-time'? Or bring your book club up to speed with what's happening on the local literature front? Either way, we're sure you'll find some inspiring words among the pages and we wish you many happy hours of reading in 2017.


1 http://www.nadiadavids.com/an-imperfect-blessing/
2. Willem Moller, YOU Magazine: https://henriettarose-innes.com/portfolio/green-lion-2/
3. https://en.wikipedia.org/wiki/Zo%C3%AB_Wicomb