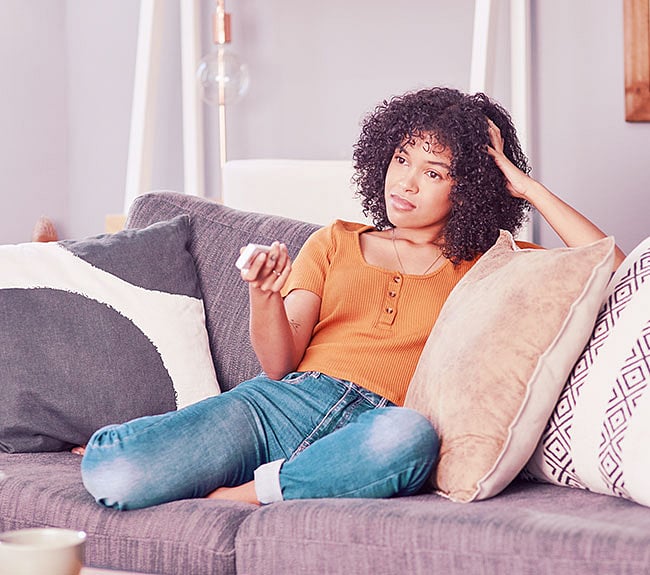 Posted on Wednesday, August 26, 2020
Managing COVID-19 news fatigue
All the bad news about COVID-19 got you feeling… well, down? You're not the only one. Having a constant barrage of information coming at us from all angles is somewhat overwhelming. Not only are we having to home-school the kids, allow extra time to do the socially distanced grocery shopping and work from home where possible, but we're supposed to do all that AND be a positive ray of sunshine?!
It's a tough pill to swallow for many.
The good news is that you're not alone. It's so common in fact, that you may even begin to hear people start using the phrases 'COVID fatigue' or 'COVID burnout'. That news isn't supposed to make you whoop for joy at someone else's despair, but it is supposed to let you know that there are many others experiencing the same situation.
And, with experience, come coping strategies.
So, what exactly IS a burnout?
A 'normal' burnout is generally associated with long days at the office. It's described as a state of emotional, physical and mental exhaustion that's caused by excessive and unresolved stress. People experiencing a burnout would typically feel a loss of meaning to their work, start to hate their job and simply feel exhausted majority of the time.
You can also learn more about Curbing women abuse during COVID-19 lockdown.
What is COVID fatigue then?
If what you would normally think of as a typical burnout is related to work stress, a COVID burnout (or COVID fatigue) is related to the stress of hearing, reading and seeing the influx of information that we are being exposed to on a daily basis.
For many of us, it's constant information that we get from every angle. It's everything from seeing and reading about it in the news and the stories that we hear from friends and family to the updates from your kid's school. It's what we're experiencing all around us; people going about their daily lives having to wear a mask or perhaps your children not being able to visit their grandparents.
And it's not just the information you're receiving, but also the hundreds of small decisions that you now need to make on a daily basis in addition to your normal daily routines. Should you go to the shops further away that have shorter queues or do you commit to waiting for an hour to get in at your local grocery store? Do you send the kids back to school or continue home-schooling them?
The overpowering feeling of not being able to take control of the situation, the added pressures of living in a pandemic and it is the only thing you hear about these days, is what can lead to a COVID burnout. And it's more common than you think.
How do you recognize the signs of burnout?
As with anything in life, everyone experiences things differently. You may not even realise that you're experiencing burnout, because it's not the type that you've heard of before. There's a whole host of symptoms and signs that could point to being on the verge of a burnout, some of which are very similar to those of a work-stress related burnout.
Examples of what you may be feeling include:
· Reduced performance and productivity
· Anxiety
· Lack of social interaction
· Irritability
· Detachment
· Feeling listless
· Low mood
· Difficulty concentrating
· Lack of creativity
· Fatigue
How do you manage COVID-19 news fatigue?
It's important to understand that everyone is susceptible to burnout - we can all be affected by one. So, instead of letting things get out of hand, why not take the time to make sure that you're doing all that you can to prevent it from happening in the first place.
Probably one of the most important things you can do is to maintain your work-life balance. This can be tough at the best of times, but when your work is now being done from your living area, it can be even more difficult to 'switch off'. Make sure that you're sticking to your normal work routine as much as possible to prevent your work from taking over your personal life.
Read more about Self-Acceptance During COVID-19 and Beyond.
If you're finding yourself overwhelmed, try to cut down your consumption of news and social media. Of course, we all want to keep in the loop and make sure we're aware of what's happening around us. But constantly watching the news and checking your various social media platforms and the somewhat constant bad news that is shared is bound to bring mood levels down. Why not limit yourself to checking the news or your social media twice a day – you're staying up to date but aren't going overboard.
While you're at it, keep a lookout for the good news. There are plenty of movements that you could follow to bring a spark of joy to your day. Try out Good Things Guy for something local, or @goodnews movement on Instagram to get a daily dose of feel-good news.
While it may seem like all COVID-19 related news is bad news, there are a few good news stories sprinkled in between. You just need to look out for them!
Maintaining social contact is another important aspect of preventing burnout. Try to remember that we need to be physically distancing ourselves from others, but you can still maintain social contact. Keep up those video calls and quiz nights with friends and family.
Keep in mind that a burnout generally leads to a lack of self-care. But self-care is different for everyone and you need to figure out what it is that works for you. Is it meditation and mindfulness, or is it doing a HIIT workout? Is it taking a warm bath, gardening or just simply chilling out on the couch? Don't feel guilty if baking banana bread isn't your thing (and don't feel bad if it is).
Take some time to check in on yourself.
Acknowledge your feelings and try to figure out why it is that you're feeling that way. If you're able to recognise the 'why', you'll be more easily able to figure out what changes to make. Most of all, try not to compare your situation to others – we all have different coping mechanisms, you just need to take the time to figure out what yours is!