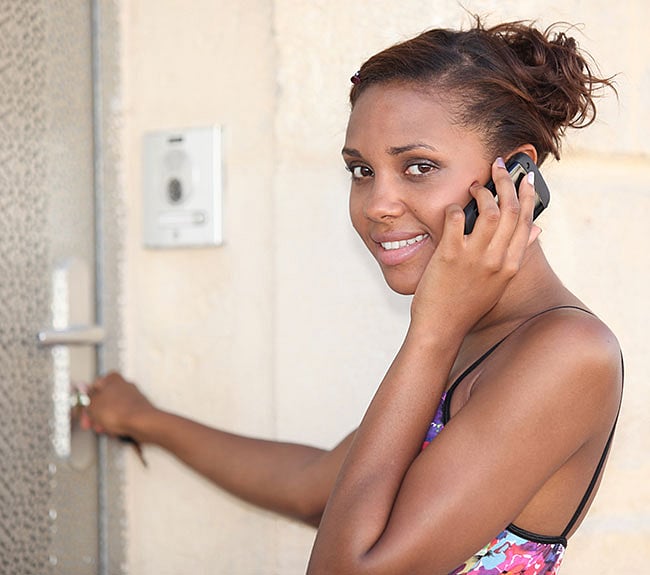 Posted on Tuesday, November 24, 2015
Clever security tips for the holidays
The holidays are drawing closer and we're looking forward to the release of a contented sigh as we leave work for the last time in 2015 and get ready for a relaxing, much-needed vacation. But aside from getting up to date on all your work before you go away, there are a few other bits and pieces that you'll need to sort out before you can enjoy your vacation to the fullest; you might want to organise a reliable person to house-sit for you, especially if you have pets, and it's a good idea to make sure that your buildings and household insurance is up to date in case something happens if you aren't going to be at home.

And, if you do go on vacation, you'll want to make sure your portable possessions are secure, especially if you're going to a foreign country. The end of the year shouldn't be spent worrying about security, though. It is a time for family lunches, languid walks on the beach, and taking a deep breath to reflect on what you've accomplished in the year, as well as for looking forward to new beginnings in 2016.

That's why we've put together a list of some of the ways you can make sure that your home is safe and your valuables remain securely in your possession this festive season. Your home There is so much to remember to take care of that you could be halfway to your destination before you realise that you forgot to take the perishable food out of your fridge! But that won't happen with this handy checklist:
Roof maintenance: With the drought affecting us across South Africa, the air is hot and dry, and this can cause your roof to crack and decay. To make things worse, when the hail storms eventually arrive, your already-perished roof may not be able to withstand the impact of the hail. Doing a little maintenance means you can go away knowing that your roof will withstand the weather and you can enjoy a stress-free break.
Alarms: It's a good idea to test your home's alarm system from time to time to make sure it's working. It's also important to ensure that it has a battery backup so that if a power failure occurs, your house won't be vulnerable to criminal attacks.
Check your household insurance policy before you go to make sure you're covered for theft and damage from natural causes such as flooding and fire.
Remember that crime levels increase in South Africa over the festive season, but with a few clever tips and tricks, your valuables should be safe:
If you receive mail at home, ask a neighbour to collect it so that it isn't obvious that no one is home.
Don't leave a spare key under the flower pot by the front door, in the housing of the intercom, or any other public place that just anyone could access. Rather leave it with a trustworthy neighbour or family member, and tell anyone who may need to visit the house where to get the key.
If your house is broken into, there are ways to hide valuables in plain sight. Cutting out the pages of a book to store jewellery can be a great way to stop criminals from stealing your valuables. Here are some seriously creative ideas for hiding your possessions in plain sight.
Your Car
If you're driving somewhere this December, make sure to get a full check-up for your car; it is just as susceptible to damage from the drought as your roof is. Fluids can dry up if the vehicle isn't serviced properly, air inside your tyres can expand which could lead to a flat, and your engine can overheat.
Make sure your tyres have tread before you head out; when it eventually rains, smooth tyres and wet roads can be a disastrous combination.
Keep your 1st for Women towline number handy, so that should something happen on your way to your destination, our Guardian Angels can save the day and have you back to your vacation in no time. You can call them on 0860 10 42 12.


Protect your portable possessions Now that you've made sure your home and car are going to be OK, it's time to enjoy that holiday! But remember, whether you're in a foreign country or you've just gone across provinces, you'll need to keep an eye on your portable possessions. Here are some tips for making sure you don't lose your cell phone or other valuables while you're chilling at the beach or other public areas:


For moms, you can hide your phone and sunglasses in a rolled up nappy; criminals are not likely to go digging through that!
Hide possessions in an empty sunscreen container
Who doesn't love to play ball games at the beach? Take an extra tennis ball and cut an opening in it; you can store your car keys in plain sight.


If you're looking for comprehensive buildings or household insurance quotes to protect your home and your valuables these holidays, we offer tailor-made insurance for women that offers real value and helps you to make the most of your well-deserved break.