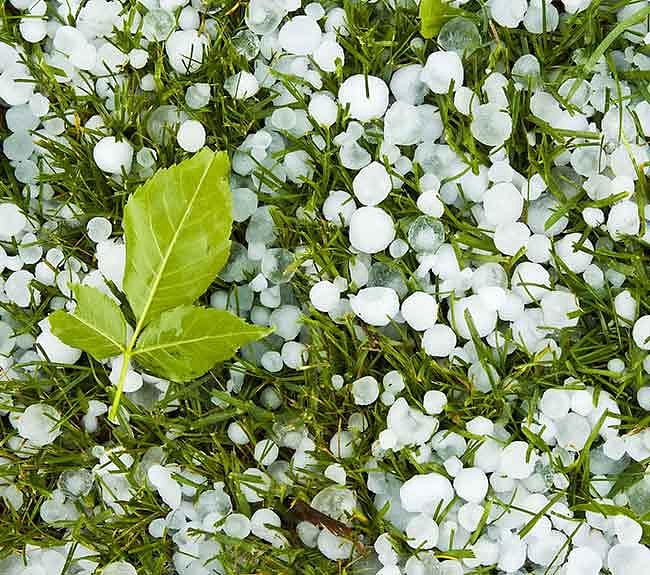 Posted on Wednesday, June 22, 2016
Fail-safe hail tips
Summer in South Africa – doesn't the thought make your heart sing? All over the world, South Africa is renowned for its brilliant climate. Hot summer days mean that we can picnic outside, laze by the pool, and in certain parts of the country, experience sundown as late as 9pm.
While some people do prefer a cooler climate, there is a certain atmosphere that takes over South Africa when the weather starts to warm up. We come out of hibernation and see our friends more; we wear comfortable, loose-fitting clothing, and we're fortunate that the season corresponds to year-end holidays by the beach with family, and Saturday afternoon braais with friends.
But summer also has its troubles, one of the biggest being hail storms. Each year during the summer months, car insurance companies receive numerous vehicle claims for hail damage. Storms can cause so much damage to a vehicle that some drivers will be searching for new car insurance quotes before the end of the year.
But hail doesn't only affect cars; it can damage your home's roof, smash windows, destroy your exquisite flowers that you've lovingly cultivated throughout the year, and damage valuable outdoor items like patio furniture and portable braais.
When you're working your hardest during these last, busy months of the year, replacing your windscreen and repairing your roof are the last things you should have to worry about. That's why we've put together a list of some of the things you can do to protect yourself and your property from hail. Read on to find out our fail-safe tips for being hail-safe this season!
Vehicle safety
The best way to deal with a hail storm is to know when there is one approaching. There are dozens of weather apps, such as Accuweather and GO Weather Forecast and Widgets, which will keep you up to date with the weather.
When you know there is a big storm coming, it's best to avoid driving. Visibility is significantly reduced during rainy weather, roads are slippery, traffic is slower, and traffic lights often stop working at the first hint of rain.
If you are caught in a storm while driving, pull over to a safe, sheltered area if possible, such as a garage with covered parking or even better, an underground parking area in a shopping centre. It's the perfect time to get the grocery shopping done, or to treat yourself to some retail therapy as a reward for your hard work!
But staying off the road entirely is not always practical. You can stay safe, though, by checking that your wipers are in good condition before the season's first hail storm. You can also use water repellent for your windscreen, which will help you to see clearly during a downpour. So whether you're taking the kids to piano lessons or making your way to a business meeting during a storm, you can drive with the confidence that you'll arrive safely.
If you're not driving in a hail storm, it's still important to protect your car. Park it undercover if you can and, if not, you can buy car protectors from many local stores, or even use heavy blankets to lay on top of your vehicle's roof and bonnet.
Home safety
Your house
Cleaning your gutters regularly doesn't sound like the most appealing task, but on the bright side, it's a great workout! By keeping them clear from debris, rain and hail will be diverted away from your roof, lessening the chances of it being damaged, plus you'll have the toned arms to show for it.
If winds are particularly strong, you may have to deal with broken windows. While there isn't much you can do to prevent this, closing curtains and blinds will help to stop the broken glass from smashing inwards all over your floor.
Your garden
If you've got patio furniture or expensive outdoor equipment like portable braais, bring them inside or move them to a sheltered area on your patio.
Your fragile plants will also need a little extra attention to make sure they survive the hail storm. There are a number of ways to protect them:
Plant extra soil around them to help keep them upright and stop the soil from washing away.
Place heavy objects like pots and even rubbish bins over them before the storm hits, and add extra weight by placing bricks on top to weigh them down
You can cover plants with plastic sheeting by placing stakes in the ground and draping the sheeting over them, securing the sheeting to the stakes.
Your pets
Don't forget your loveable four-legged family members! Ideally, your pets should be brought inside but if you simply can't make it home in time to let them in, make sure they have a safe, dry, covered area to shelter in. However, if your pet has noise and/or storm phobia, it's vital that they be brought inside.
Hail storms might put a hold on your plans for a few hours, but don't let them ruin the season by damaging your car and home. When you take out Comprehensive Car Insurance with 1st for Women, we give you the choice to take out hail cover. Your home is also looked after with our Buildings cover, and if your household goods are damaged by a storm, our Home Contents insurance will take care of those for you, too.
With all of this value, you can focus on getting the important things done as the year draws to a close, without worrying about small things like hail damage.