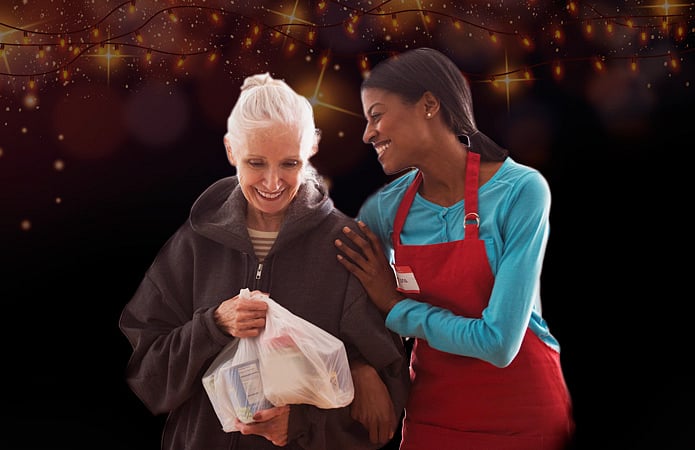 Posted on Monday, December 14, 2020
The gift of giving guide
There is a beautiful saying by Winston Churchill – "We make a living by what we get but we make a life by what we give." And in a year in which we've witnessed the power of giving like never before, the season of giving reminds us once again of the remarkable difference we can make. Whether it's been through donations to COVID-19 relief or supporting small businesses, South Africans have rallied together in the most inspiring way. So, as the season of giving approaches, we look at some of the many ways you can give and give back this festive season.


Give to the nurses

We're inspired by the incredible nurses on the frontline – the women who risk their lives every day to put our safety, and the safety of our families, 1st. That's why we partnered with Gift of the Givers, BackaBuddy and VULA Mobile to ensure that South African nurses, working tirelessly to fight the pandemic, are provided with the emotional support and protection they need. If you'd like to help us keep helping them, make a donation here.

Pro-tip: Donate on a loved one's behalf as a gift to them.

Give to the fight against woman abuse

Have you streamed/downloaded our My Body (Stand Up) song yet? Did you know that all proceeds go to the 1st for Women Foundation to fight woman abuse? You can also give in the form of time, skills and funds through our ForWomen initiative. Plus, if you join 1st for Women, a portion of your premiums is donated to the Foundation, which has raised R81 million to date for woman abuse causes and assisted over 90 000 survivors.

Give to the elderly and vulnerable

There are many restrictions still in place when it comes to visiting old age homes and care centres, so if you cannot physically volunteer, why not put together a festive package for a home near you. And if you have a loved one at a care facility you can't visit, why not create a holiday video with messages from the entire family? You can also arrange a group video call and celebrate together, virtually.

Give to the children

Bring the magic of the holiday season to vulnerable children by contributing to homes and initiatives that are close to your heart – from Santa Shoe Box to Cotlands and CHOC, there are thousands of organisations you can support.

Pro-tip: Donate to children's charities on behalf of your loved ones.

Give to the environment

While masks and hand santisers are essential for us, the resulting waste causes havoc to the environment. In addition to choosing reusable masks, see how you can reduce waste over the festive season – from sustainable gift wrapping to signing up for recycling services.

Pro-tip: Know someone who loves to live green? Sign them up for a recycling service.

Give to the animals

If you're an animal lover, there are numerous worthy causes who need support all year around. A great way to spend time outdoors, with the kids, is to volunteer at the SPCA or other animal NGOs, where you can walk dogs, pet cats and attend to the various other animals they care for. You can also contribute with monetary donations and pet food.

Pro-tip: Know a pet lover? Donate to the SPCA on their behalf.

Give a garment with meaning

Our Fearless T-shirt co-designed by Palesa Mokubung (creator of the Mantsho brand) and our brand ambassador Zozibini Tunzi, makes a statement and makes a difference. It encourages the fearlessness within you and 20% of proceeds go to the 1st for Women Foundation to fight woman abuse.

Buy your Fearless T-shirt here.
So, there you have it – 7 wonderful, thoughtful and diverse ways to bring real meaning to the season of giving. We hope that our list has sparked some ideas for you, and we wish you and your loved ones the happiest of holidays!