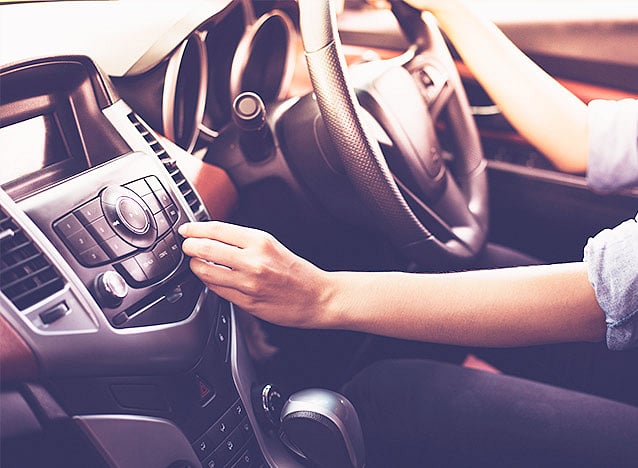 Posted on Sunday, November 22, 2020
How Music Lowers Driver Stress & Anxiety
The stresses and strains of mental anxiety that comes with being on the road can take a toll on your overall health. It's common knowledge that stress brings on a high risk of cardiovascular disease, but listening to the right music while driving can calm you down, bring down the pulse rate, and help put you into a better mood.
The best methods of listening
Most vehicles have some form of sound system, however low- or high-tech it may be, but different methods offer different sound quality.
Original CDs or compact discs – If your car was manufactured before 2010, it's likely you do not have AUX or Bluetooth capability. Still, CDs do offer a full and rich sound in the car, one disadvantage, however, is the tendency to jump when driving over bumpy surfaces.

Bluetooth® transmitter – allows you to stream music to your stereo without a cable. As they are digital transmissions, they give you better sound quality over analogue transmissions like FM.

Auxiliary input – The auxiliary input jack is a convenient way to listen to music from a mobile device like your smartphone. It delivers a direct signal from source to the car stereo without any electronic manipulations. This means your stereo receives exactly the same signal that your music source is creating letting you experience optimum sound quality.

USB input – Your music played this way remains in digital format – what you hear is exactly what you have stored on your device, therefore you'll experience the best sound quality possible from an external source.
Whichever method you use, bear in mind that for optimal sound quality, ensure your audio files are uncompressed with a high bit rate.
The importance of music
It's the universal language

It creates ambience

It unites people

It enhances brain function and helps you focus

It puts you 'in the mood'

It lets your imagination flow

It improves your memory

It gives us pleasure
What types of music are best when driving?
In a study to examine the influence music has on driver stress in traffic congestion, it was found that drivers who listened to their favourite self-selected music appeared to have lower stress levels than those who drove without listening to anything. However, music therapists might say that knowing a piece too well could also be counterproductive. Certain genres and instruments certainly contain the right musical elements for relaxation:
Genres – Downtempo, classical, jazz, world, lounge, classic rock, soft pop, and ambient.

Instruments – Native American, Celtic, Indian stringed-instruments, drums, and flutes.
So, what's the best music for driving? It may be different for everyone, but slow and simple seems to be the consensus. Why not explore a few to find melodies that work for you.
For your car insurance and other insurance needs, get in touch with 1st for Women & talk to an expert consultant today.
Disclaimer: This content is for informational, educational, or entertainment purposes only. We do not make any warranties about the completeness, reliability, and accuracy of the content. The views and opinions are those of the author and not necessarily those of the company.