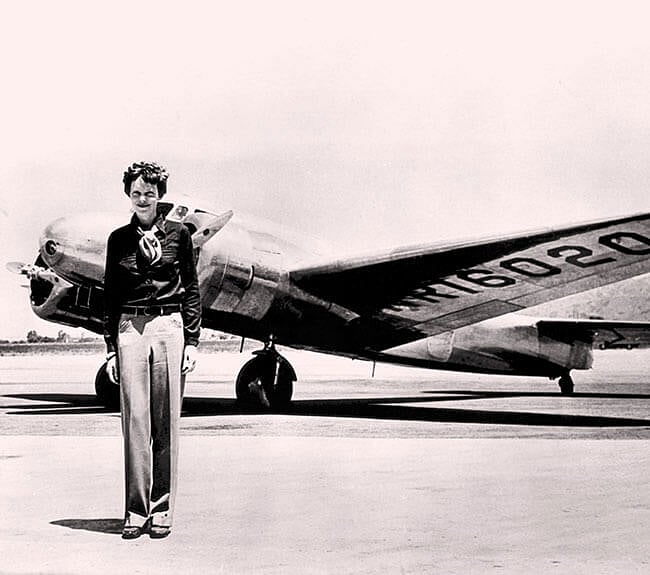 Posted on Thursday, March 31, 2016
Four of history's most courageous women
The wonderful thing about Women's History Month is that it reminds us that lists of courageous women like these are not exhaustive; all women are courageous in their own ways, each day. It doesn't take breaking a world record or living in imprisonment to be courageous. You don't need to compare yourself to these brave women, but rather celebrate the smaller, daily, seemingly insignificant achievements that, in the end, make a big difference in your life and the life of others.

Amelia Earhart "Never interrupt someone doing what you said couldn't be done."

If taking to the skies and flying to the highest altitude the world had ever known at the time isn't courageous, we don't know what is! In 1928, Amelia Earhart was the first woman to fly solo across the Atlantic Ocean and the first person to fly over both the Atlantic and Pacific Oceans. A few years later she did what no person had done before and flew to a height of 18 415 feet. She also joined a group of pilots called the Ninety-Nines that were out to encourage women to become pilots, and was later made president of this organisation.

In 1937, she disappeared while attempting to fly around the world and no one knows the details of what happened to her after this. But to this day, she is a household name not just in her home country of America, but all over the globe she tried to circumnavigate.

What's truly inspiring about her is that we've all got a little of the kind of courage she had – the bravery to do something even when others think it can't be done, no matter how big or small.

Queen Ana de Sousa Nzinga Mbande "Haughtiness and proudness is in my soul from the day I was born until my dying breath."

Queen Nzinga Mbande is one of Africa's greatest heroines. She was tough, resilient, and fought determinedly to free Africans from slavery in the 17th century. She ruled over the country known today as Angola with cunning and fearless resolve. To fight the Portuguese, whom at the time were trying to wrest control of the region and grow their slave trade, she declared her kingdom a sanctuary for runaway slaves, stating that all who lived there would be free people. In doing so, thousands flocked to her country and joined her army.

What makes her even more impressive is how she also used her wits and personality to defend her country, too; she made an alliance with the Dutch to secure freedom for her region and for slaves. She was also determined to steer the country into a centre of power for trade, and although the slave trade grew after her death, she was responsible for fending off the Portuguese and slavery for her people during her time as queen.

Miep Gies "Even an ordinary secretary or a housewife or a teenager can, within their own small ways, turn on a small light in a dark room."

Anne Frank is a household name around the world, but the people who risked their lives to keep the Frank family alive are not as well known. One of these was Hermine Santruschitz Gies, better known as Miep Gies, who worked as a secretary for Otto Frank and helped to hide his family for over two years. She would take food for the family with illegal ration cards from various grocers, all while assisting with keeping the business going. Eventually the Franks were found and Miep saved Anne Frank's diary which is so famous today. She delivered it to Otto Frank when he returned from the concentration camp. What we love most though about Miep is her humbleness. She has never seen herself as a hero; she merely did what she believed was the right thing to do. How many of us can relate to this? We don't see ourselves as heroes in our everyday lives, and yet we have a profound positive impact on the world around in the small things we do.

Ruby Bridges "Don't follow the path. Go where there is no path and begin the trail. When you start a new trail equipped with courage, strength and conviction, the only thing that can stop you is you."

It's hard to know who is the real heroine in this situation – Ruby Bridges, her mother Lucille, or her teacher. Ruby was just six years old when she made history in America. She was the first black child to attend a white Southern elementary school. She had to be escorted to school by her mother and U.S marshals to keep her safe, and only one teacher agreed to teach her – Barbara Henry. Parents of all of Ruby's classmates pulled their children from the class, so Barbara and Ruby spent a year alone together at the school. At the time, Lucille Bridges knew the intelligence of her daughter and pushed for her to attend the school as she knew she would get a good education there, despite the risks involved. Although Ruby says she was too young to know what racism was or meant when she first attended the William Frantz School, she realised after her first year there that no one is born hating others because of the colour of their skin – racism is learned. As she grew older, her courage to embrace herself for who she was is something we can all look up to; simply being and loving yourself can be the bravest thing a person can do.

At 1st for Women, we recognise that all women have courage in their own way. That's why we know you deserve tailor-made insurance, whether it's Car, Home, Portable Possessions or Bike Insurance. If you're looking for cover that understands your unique needs, you can get insurance quotes online or call us on 0861 00 30 01.