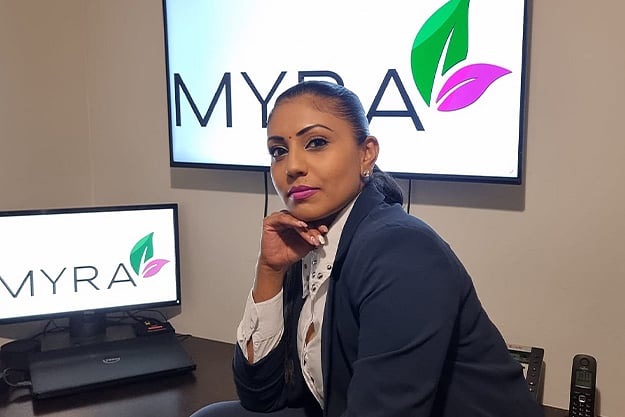 Posted on Thursday, March 10, 2022
A future-fit foodie's #FearlessFreshStart
The COVID Pandemic changed countless lives. It was a time of fear, loss, hardship and uncertainty. But out of it came many stories of survival, bravery and reinvention. Plant-based food brand Myra is one such story. Owner Tashia Naidoo Reddy had to sink or swim. She tells media personality Uveka Rangappa how she Fearlessly followed her passion to venture into something new in what was one of the scariest times the world has ever faced.
1.Starting a new business in the middle of a terrifying pandemic must have been daunting? What was your first Fearless moment?
Definitely, the initial phase of the business when no one knew about Myra and were sceptical about our products. There was one specific moment which will always stand out for me – it was the first time I approached a major retailer to stock our vegan range.
I was shunned almost immediately as if I was just wasting their time but I persisted. It was extremely difficult to convince a major retailer to carry a product that hadn't been around for long. I eventually convinced them to take the products without any payment obligation. It wasn't long before the products had sold and I was asked to deliver another order. My fearful moment became one of triumph!
2.What were you doing before that and why the change?
I was and still am involved in my first business which is Royal Gel-ly Mobile Spa & Wellness. At the height of the pandemic, that business came to a grinding halt. I then knew I had to stir up the courage to not give up. As the saying goes - "You get in life what you have the courage to ask for". And so, I did...
3. Why Myra?
Myra in Sanskrit means "Gift of God ". A true depiction of the brand vision. And for this reason, I believe Myra to be the perfect name. God has provided an earth filled with plants for humans to use as our food source, oxygen, medicine and overall fuel for life.
4. What did it take to go out and do this?
It took a lot of hard work, dedication and perseverance. Being a perfectionist by nature I know I had to do whatever it took to ensure brand excellence. However, it came with rejection, insults and humiliation. But I didn't allow that to get to me. I wasn't about to let go of my dream and I didn't take my eye off the goal. I have also been blessed with the most supportive spouse and family to whom I owe my ultimate success.
5. It sounds like this is more than a business for you – it's a passion. Tell us about that?
It is certainly more than a business to me. At the age of seven, I gave up eating meat completely and became vegetarian. I grew up in a predominantly vegetarian/vegan family. So, this has been our way of life for as long as I know. In the past, very few brands have offered vegetarian/vegan options, making it exceptionally difficult to thoroughly enjoy day-to-day meals. So, we had to create ways to make meals more enjoyable and nutritious. I am undoubtedly living my passion. "The only way to do great work is to love what you do".
6. "Food businesses" like this have been popping up all over, how do you stay ahead and make your business stand out?
Veganism has undeniably gained traction over the years with people becoming more aware of animal cruelty, the environment, how food is processed and mass production causing numerous health issues. This awareness was heightened with the COVID outbreak and theories of the virus possibly originating from bats. There are many brands which now offer vegan products, but they ignore the nutritional side. They merely make meat mock-ups which lack good healthy ingredients. At Myra, we source only the best ingredients, infused with all the superfood goodness.
7. Customers can also be very difficult when it comes to food. How do you deal with that?
Well, the customer is always right! We do our best to always satisfy our customers' needs but we can't please everyone. However, unhappy customers are our greatest source of learning. It gives us the opportunity to touch people's lives in some small yet significant way and become better as a brand.
8. What next for Tashia or Myra?
We want to expand our range with many more exciting, wholesome products including ready-made meals for the busy individual, without compromising on nutrition. We want to go nationwide and then take on the world!